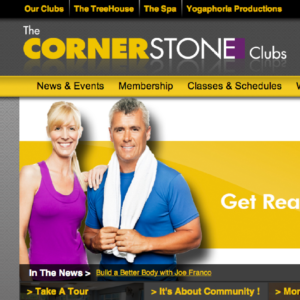 Challenge: Develop a website for a regional health and fitness organization that has multiple locations; offers a vast number of classes, programs, and services; and operates in a market with a high number of competing facilities. The website must serve as a promotional vehicle and as a central hub for news and events directed to the Cornerstone-member community. The website needs to be attractive, consumer friendly, scalable, and easy to update.
Solution: Imbue worked with Cornerstone Clubs to plan the structure and features of the website. Key features include accessibility to multiple Cornerstone locations, workshops, and classes; ability for employees to update website content with an easy-to-use web-based administrative area; and site-wide social-sharing integration. Imbue provided a customized design; built the website using the popular, open-source content management system (CMS) WordPress®; and installed site-wide reporting analytics.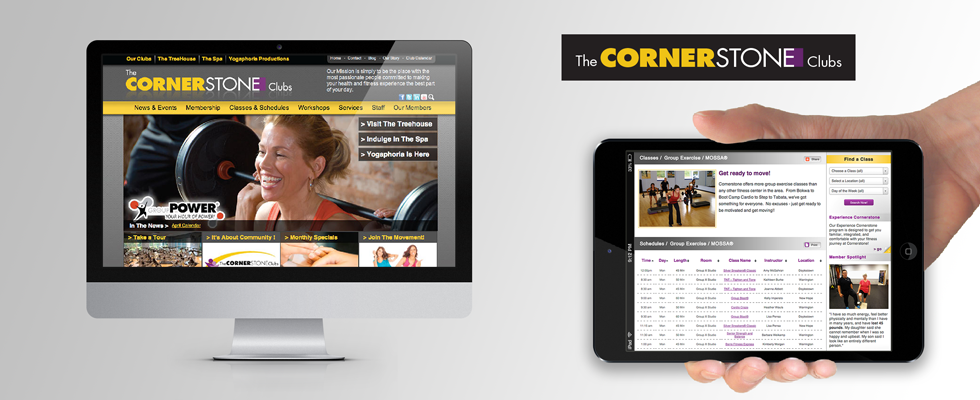 Outcome: Cornerstone Clubs saw an immediate improvement in the length of time a visitor stayed on their site and an increase in the number of requests for information about the organization. The staff now manages class schedules online and keeps website content current through the use of an online editor. Club members are kept up to date with timely announcements, transpiring news, and event notifications. Cornerstone now has an effective and efficient online solution that lightens administrative burdens, elevates the brand, and enriches external communications.