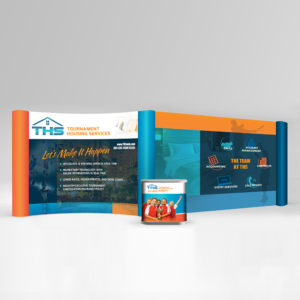 Tournament Housing Services (THS), the first and largest national sports housing service in the world, was interested in developing a brochure that they could use to reinforce branding and support sales. They were also in need of a trade show booth for in-person events and shows.
Imbue's creative team met with THS to learn about their goals, reviewed their copy and website, and strategized the best method for designing and presenting the marketing collateral. Imbue designed an 8.5 × 11 inch tri-fold brochure and also refined the client's existing copy. Design elements were based on THS's core colors and branded elements from their website.
While working on the brochure, Imbue also used the imagery and key messages to develop Tournament Housing Service's trade show booth. The design covered two large exhibit booth panels and a podium.
Both projects successfully speak to THS's core audience of tournament organizers and managers, while simultaneously maintaining a team- and athletic-friendly appearance. All pieces support the company's overall brand image.