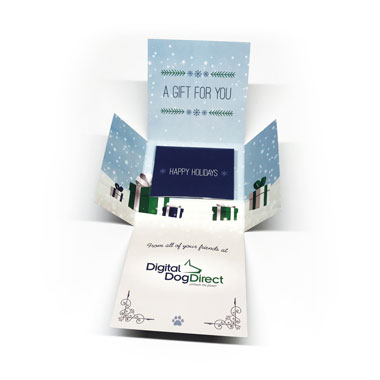 Greeting cards are personal, creative, festive, and inspired by good will. For all these reasons, the team at Imbue Creative loves designing and copywriting them, especially holiday cards.
Imbue recently provided concept development, design, and production management of a beautiful holiday card for a local B2B company in Ewing, NJ: Digital Dog Direct. They happen to be our sister company as well, making the task particularly special for us.
Because this is an annual project, we are challenged to reinvent the concept each year while still achieving the main goals: create a branded card that appeals to its corporate recipients, displays Digital Dog Direct's capabilities as a digital print and direct mail company, and involves a fun—and functional—surprise.
This year, we decided to recreate the act of opening a present. To do so, we chose a modified square iron cross fold layout which allowed the recipient to go through the act of essentially unwrapping their gift.
Nestled inside the folded card lies a special gift encased in a small clear envelope, securely glue-dotted to the main card. When opened, the recipient finds 8 holiday-themed stickers designed by our team to be used as gift and food labels, and envelope seals. The stickers were also custom designed by our team.
The total package is branded in Digital Dog Direct's colors and even subtly marked with Digi Dog's (the company's mascot) paw print. The simplicity of the copy allows the unique format and elegant winter design to shine.
Experience the card yourself! Watch the video below to see this interactive card unfold: