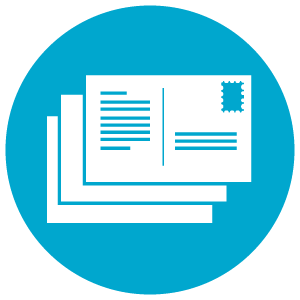 Direct mail remains a key driver of sales even as media choices and considerations broaden through search, email, social, online, and mobile channels. Although digital marketing now plays a more critical role in the media mix, marketers that incorporate direct mail into their campaigns achieve a higher return on investment and greater benefits. By placing your pitch and marketing information directly into the hands of your prospect and customer, you create an intimate touch point with that person that results in higher sales and strengthened brand loyalty than if you just used a digital solution alone.
A mail piece can be more thought provoking than a banner ad or email—further augmenting a campaign's success. And, by incorporating personalization into a mail piece, you can even generate more gains by tripling the response rates over non-personalized direct mail. For all these reasons, Imbue remains committed to modern direct mail; and we can show you how it still plays a vital role in your marketing plan.
Imbue is ideally suited to be your direct mail partner. As the marketing agency at Digital Dog Direct, a digital printing company and a single-source mailing provider, Imbue can offer you a one-stop shopping experience for marketing services, list selection, print, mailing, and production services. We can print all components of your direct mail package in house, which speeds up drop dates and reduces the cost of multi-part matched mailings. We have the resources to quickly address and process any mailing quantity from postcards to self-mailers to multi-piece direct mail packages and get them out the door fast. We offer high-quality custom hand assembly of complex projects, including multi-piece letters and packages, fragile materials, and just about anything in an unusual size or shape.
We have everything that you need to make your direct mail campaign a powerful and profitable one.
---
Start your next direct mail campaign with Imbue. Contact us.