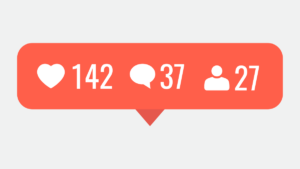 Over 93% of internet users are social media users, making social media marketing a prime opportunity for your business to convey its message. But with over 95 million posts created per day on Instagram alone, how can your business develop a social media strategy that stands out?
Before diving right in and hitting 'publish' on your next few posts, follow these four steps to ensure your business is posting high-quality content that drives bottom-line results.
1. UNDERSTAND YOUR TARGET PERSONA AND BRAND
Before mapping out any aspect of your digital marketing strategy–including your social media plan–you'll want to get to know your target persona. Understanding their problems and needs, and how your specific offers can serve them, will allow you to create powerful content for each social media platform. We recommend creating one to two target personas to keep in mind as you start developing your social media content and strategy.
Another important element of social media marketing for business is leveraging it as an extension of your brand. Your social media channels–from your Bio and About information, to the fonts and colors used, to the tone and voice of captions–should align with your overarching brand strategy.
If you already have social media profiles created for your business, we recommend doing a quick audit of each channel. Are your banner and profile images up-to-date? Does your bio accurately speak to what you do? Is all information still correct and relevant? A quick audit can make a big difference in how your profiles are represented to new and current followers alike.
2. SET GOALS AND KPIs
Just like any other aspect of marketing your business, take time to set goals for your social media efforts. Do you hope to drive sales? Start conversations and engage with potential customers? Grow visibility? No matter what goals you're working towards, get specific and create key performance indicators to measure results.
Your overarching goals should be a foundational element of mapping out your social media strategy. For example, if you hope to increase visibility, you might consider tagging outside accounts and leveraging third-party sources as a large part of your strategy, as those accounts will then share out your posts for extra exposure.
Write out your goals and KPIs, and keep them top-of-mind as you develop your content for social media. Add a recurring task in your calendar to check in on those key metrics on a monthly basis so you can assess what's working and where there's room for improvement.
3. MAP OUT 3-5 CONTENT TOPICS
A helpful part of building an engaging social media strategy is mapping out content topics. These specific topics will depend largely on your business type and goals, but may include:
Promotional posts to build awareness around upcoming events, launches or initiatives
Educational posts to inform your audience on a specific topic
Lifestyle posts to share content about your team and company, or user-generated content
Engaging posts such as interactive polls, questions and trending topics
With your goals in mind, map out 3-5 specific content topics in order of importance. While one topic may consume 50% of your social posts, another may only be necessary on an as-needed basis. Keep this information top of mind as you begin to map out your content calendar.
RELATED: Content Marketing 101: 5 Steps to Reach & Resonate with Your Target Persona
4. DEVELOP YOUR CONTENT CALENDAR
Now that you have clarity on your brand, target persona, goals, and topics… it's time to map out your content calendar! We recommend planning your content 2-4 weeks in advance for a few reasons:
This will help ensure your business is staying consistent and top-of-mind to followers
You can plan ahead for any upcoming events, initiatives or "Social Media Holidays" that your company may want to leverage
With a content calendar, you'll have a better view of the 'big picture' and can ensure your content is spanning a variety of topics and post types to appeal to your audience
Have questions on your social media plan? Want to discuss how Imbue can help your business develop social media strategies that stand out? Click here to get in touch!