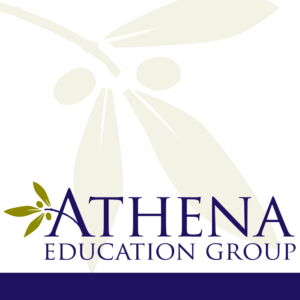 Challenge: Develop an identity for the Athena Education Group, a medical education company that creates programs for healthcare professionals. At the time, Athena Education Group was a start-up company looking for a clean and contemporary look with a reference to Athena, the Goddess of Wisdom. The new identity would be used in a variety of formats including materials for live symposia, online programs, and print enduring materials.
Solution: Imbue researched themes related to the Goddess Athena and education. Concepts incorporating several unique icon elements and color schemes were explored. The story of Athena giving the gift of the olive tree to the people of Athens to provide food and shelter was intriguing because similarly, the Athena Education Group is providing the tool of education for the success and well being of others.
Outcome: A strong new brand that was used across all materials in print and digital forms. As a start-up, it was critical for Athena to gain new business quickly. This new corporate identity immediately strengthened their presence locally as well as at tradeshows and proposal meetings. Additionally, Imbue won a Communicator Award for corporate identity, logo design for our work on this project.