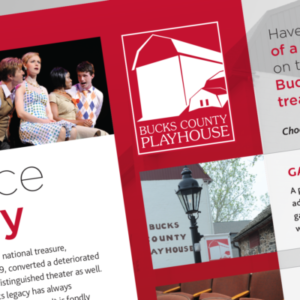 Challenge: Develop a logo and website for the rejuvenated Bucks County Playhouse, one of America's most-famous regional theaters. Both projects are part of expedited preparations essential to producing an abbreviated summer season for 2012. The logo and the website need to pay tribute to the summer theater heritage, the history dating back to the theater's establishment in 1939, the role of the playhouse in local traditions, and the stewardship of the Borough of New Hope, PA. Additionally, the website must serve as a central component in the creation of a digital presence for the legendary theater and part of a promotional strategy aimed at attracting and building an audience online.
Solution: The Imbue design team and playhouse senior management decided upon a close collaborative process because of tight design and development deadlines. Imbue presented several logo options ranging from the very traditional to very contemporary. The final logo is a modern rendering of the original eighteenth-century gristmill structure, providing a fresh, new look while encompassing the attributes associated with the cherished landmark—evoking remembrances of its illustrious legacy and distinguished past.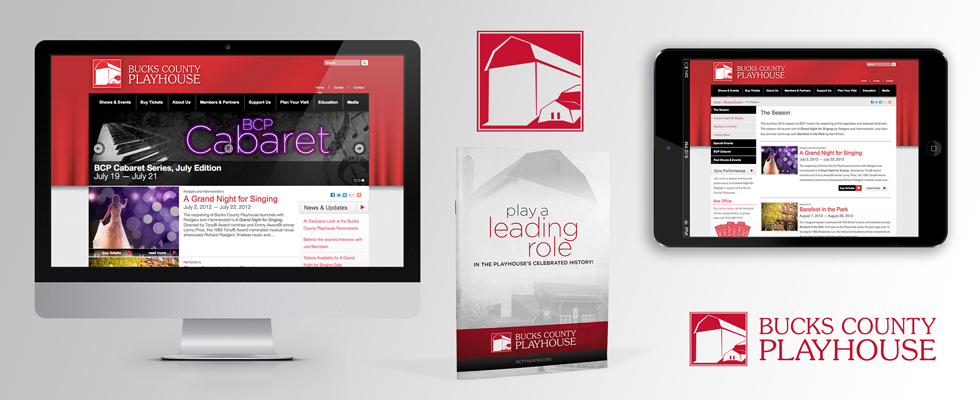 The website was developed to operate as both a promotional and sales vehicle, showcase multiple seasons, permit employees to update event and content information, and effectuate ticket sales online. Imbue provided a customized design using the new logo as a basis and built the website using the popular, open-source content management system (CMS) WordPress®. A key feature of the site includes a web-based administration area so employees can easily keep playhouse information current, deliver news items quickly, and create online content for shows and events as the season advances and offerings change. Additional features of the site assist with other front-of-the-house activities including public relations, employment, financial support, and education.
Outcome: The new Bucks County Playhouse logo was put to use immediately, and the public quickly associated the logo with the organization because of the strong connection of the playhouse with the architecture of the former gristmill. Online ticket sales commenced prior to the opening of the physical box office, and digital promotional efforts began on time. The staff now promotes the theater season on the web and keeps website content current through the use of an online editor. Theatergoers have the ability to learn about the shows, casts, and special events anytime; they can also buy tickets 24/7 through a virtual box office, buy memberships and subscriptions, and provide additional support to the playhouse through online fundraising options. The Bucks County Playhouse now has a web-based solution that continually communicates with the public, drives sales, and supports other traditional marketing initiatives. For its work on the website, Imbue received a Davey Award for website design. The Bucks County Playhouse logo was similarly honored with a Communicator Award for corporate identity, logo design.