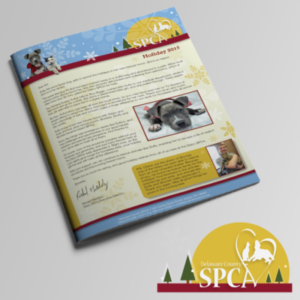 Delaware County SPCA's holiday giving campaign is a crucial part of their overall fundraising and community outreach every year. As such, it is key for the campaign to be both informative and inspiring. Imbue was tasked with designing the holiday newsletter, which would be sent to local supporters, and testing response by using two different formats.
For the first piece, Imbue designers put together an 8.5 x 11 inch bi-fold self-mailer that included a glue-dotted remittance envelope and was sealed with a frosted tab. The second piece included a full-color letter with perforated response card, spotlight testimonial insert, and response envelope.
Both custom designs incorporated Delaware County SPCA's core branding colors and photography. The larger newsletter included custom graphic representations of the numbers of animals they helped over the course of the year, designed by Imbue.
Delaware County SPCA recently rebranded themselves as Providence Animal Center. Visit their website here.