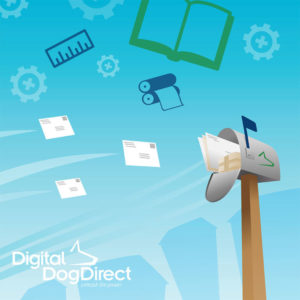 Digital Dog Direct underwent a change in company name and a move to a new, state of the art facility in 2011, at which point both the business and its branding were ready for the next level of customer engagement. Imbue Creative partnered with Digital Dog Direct to elevate the brand through strategic outreach and a strong digital presence.
Imbue started their work by conducting competitor and buyer research for the Digital Dog Direct brand. After meeting with and interviewing multiple key stakeholders, several buyer personas were developed that would be used to focus Digital Dog's targeting and guide their messaging.
The website was first addressed. Imbue designed and developed a responsive website with custom graphics, a comprehensive service menu, a blog, a resource center (for content downloads), and several contact forms. Imbue then set up HubSpot as the inbound marketing platform on which we built landing pages, workflows, e-newsletters, scheduled social media, and created other means for driving traffic and leads. This inbound engine was fueled by the copywriting and design Imbue provided in creating original content offers and compelling blog articles.
Meanwhile, Imbue worked with Digital Dog to create a portfolio of printed marketing materials, including brochures, business cards, sell sheets, and sales letters for general outreach and to supplement targeted mailings. Imbue concepted, wrote, designed, and project managed several multi-touchpoint mailers for Digital Dog tailored to the markets identified in the initial buyer persona development. These mailers served as an initial engagement on which their internal sales team could follow up. In turn, Digital Dog reached and signed new customers, and also expanded the project work of current customers.
Imbue has also provided Digital Dog with a full spectrum of design and marketing services. Notable projects include a targeted PPC advertising campaign (both on social media and Google AdWords) which drove new traffic and sales, design of creative annual holiday cards which have supported local charities and won national recognition through the USPS, and dozens of advertisements for both print and digital placement.
Results
Within the first year of launching an inbound campaign and the new website, traffic doubled; organic search increased 60%, direct traffic increased 76%, and visits from social media increased 17,800%. Digital performance has continued to rise since then, amounting to an 800% overall increase since Imbue's first engagement with Digital Dog. Brand awareness and business growth has converted both long- and short-term engagement and sales for Digital Dog Direct, and has earned the company several industry awards over the years.