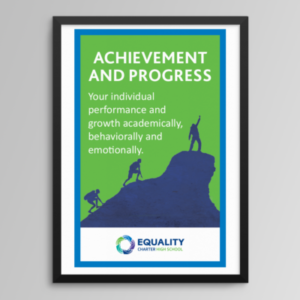 Equality Charter School, an organization based in the Bronx that is dedicated to helping young scholars of all backgrounds thrive, wanted to revamp their brand identity. As an organization that promotes unity and academic achievement, they wanted to ensure that their branding communicated the same messages.
Equality Charter School called on Imbue to develop a new brand identity that would help the organization better communicate its mission.
With Equality Charter School's empowering mission in mind, Imbue's design and illustration team created a variety of logo concepts. The final logo includes five different colored hands, each representing one of the five different branches that comprise the Equality Charter School organization. Imbue also compiled an official branding guide to help Equality Charter School ensure that their new brand design is incorporated into all future collateral, both print and digital, such as e-newsletters, signs, and informational brochures.
Our team then performed a total redesign of their website with a focus on making sure that the it was clean, user-friendly, and on brand. Particular attention was paid to user experience (UX) design, as well as usability so that the Equality Charter School staff could update and maintain the site frequently. Their website now acts as an online resource that students and parents find inviting, attractive and easy to navigate.