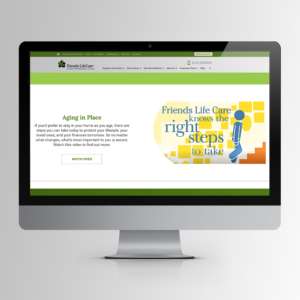 Friends Life Care is a membership-based, affordable alternative and supplement to long-term care insurance or facility living that provides an "Aging in Place" option for adults in the Greater Philadelphia Area.
Friends Life Care first came to Imbue Creative in 2015 looking for content marketing support, and the relationship grew from there. Imbue helped build their brand and their digital presence. Once their branding was established and website was up and running, Friends Life Care began looking for a new way to reach their audience to explain how their service works in a simple, relatable and engaging way. The answer was video.
Imbue and TD Post & Animation partnered to help bring their vision—and their unique offering—to life through a 2-minute animated explainer video posted to YouTube. The video drew national attention from leads, customers, and even competitors who reached out to Friends Life Care to ask who created their video. To date, it has earned over 70,000 views—easily becoming the company's top offer driving leads.
One of the main reasons this video worked so well is because it took two complex issues, finance and healthcare, and simplified them into an easy-to-digest solution. The animation used simple shapes and colors—portraying the audience in a relatable way without getting caught up in the details of age, race, or gender. The voice-over brought it all together by providing a soothing narrative, much like the voice of a "friend."
Now that they had a simple way to explain the process of "Aging in Place," Friends Life Care wanted to make a second video to help their audience ask the right questions about readiness to do so. They tasked Imbue and TD Post & Animation with creating a video that maintained elements of the first video, but was different enough to stand on its own. This time the information we had to communicate wasn't as complex which enabled us to add more texture and background to the video and make the shapes more defined. We kept it consistent as a brand and used the same voice-over artist as another way to continue their story, without creating a whole new book.
These two videos helped Friends Life Care connect with their audience on a deeper level. Both videos continue to get views on YouTube, introducing the idea of "Aging in Place" to a growing number of prospects and growing the circle of friends at Friends Life Care.