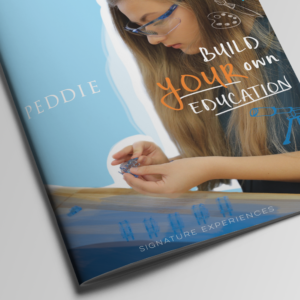 Peddie School, a private boarding and day high school in Hightstown, NJ, has offered its students and community the highest quality education for years. One of the ways Peddie creates opportunities for its students is through the Signature Experience program of independent research for juniors and seniors.
To promote this offering, Peddie sought collaboration with the team at Imbue Creative to conceptualize, copyedit, layout, and design a 12-page brochure about the Signature program to be used as part of their suite of admissions recruitment materials.
Imbue took Peddie's defined brand look and embellished it by incorporating additional artistic elements to complement the features of previously developed collateral. In doing so, Imbue was able to elevate the design while maintaining its cohesive place in an already established set of material.
In addition to the brochure, Imbue also assisted Peddie in creating a brand new marketing piece: the Strategic Plan Brochure. This publication is mailed to the same audience as their Annual Report and communicates the school's plan for growth.
As such, Imbue knew it was important to make an impact with the recipient. The solution took form in a double gate fold 8-page brochure with notable design features.
First, a custom illustration drawn by the Imbue team of one of Peddie's most recognizable buildings to highlight the uniqueness of the school's beautiful and expansive campus. Second, the brochure cover was printed with a blue-on-blue spot UV, displaying a sophistication that played well against the highly visual interior. The resulting design paired well with the Annual Report and simultaneously stood out as its own, eye-catching piece.
These brochures perpetuate Peddie's distinguished brand image and also continue to push them forward as a modern institution with a strong vision for the future.