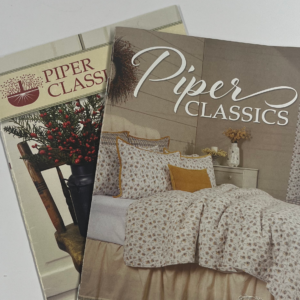 Piper Classics is a country home furnishings company that sells every day and seasonal home décor. From bath, bedding, lighting to kitchen décor- Piper Classics has all the needs to make a house into a home.
Starting as a small family business and transitioning to an online store with featured catalogs, Piper Classics asked Imbue for a logo refresh and design assistance with the catalogs. Wanting to appeal to a younger audience, the team brainstormed on what to transform within the original icon and logo. Altering the typeface of "piper" and keeping the original typeface of "classic" allowed the logo to have a contemporary feel while keeping its familiarity. Removing the basket from the logo created a sleeker more modern that the business requested.
2006 was the start of Piper Classics catalogs. Coming out with two catalogs a year with a supplemental Christmas feature- Imbue has worked with the business for over a decade to create these catalogs. The acquainted cover image of decorative bedding has had a positive appeal for all seasons. Highlighting classic autumn colors for falls and warms whites and cool colors for winter, the catalogs are always popular with the customers.