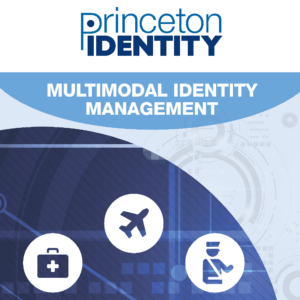 Princeton Identity (PI), a biometric identity management company that uses iris recognition technology to make security more accurate, came to us with immediate needs for an upcoming tradeshow. While equipped with a logo and certain design elements, PI did not have any uniform marketing material or tradeshow displays.
Knowing that these pieces would be used at industry shows, Imbue worked with the PI team to understand their markets so as to speak effectively with their audiences. Because the iris technology is effective in many circumstances, PI serves a large range of industries including healthcare, finance, aviation, technology, security, government, and more. All of the communications, however, would be in a B2B realm, which Imbue used to influence design choices.
Our design team took the existing graphic components and worked to define a stronger look by assembling them into a cohesive and coordinated set of branded collateral. Our work included the design of case studies, data sheets, and pop up and table signs.
In addition to these print pieces, Imbue was also tasked with developing photorealistic 3D product renderings. PI had photography of their products but did not feel it was strong enough for use in their materials. So, Imbue created custom illustrations of two PI products for both print and digital use.