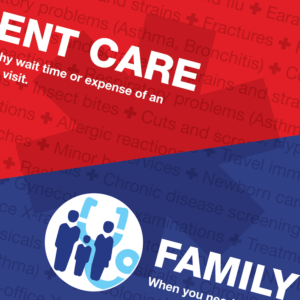 The Doctor Is In is a primary and urgent care facility that has been serving the Hunterdon and Warren County communities since 1987. Over the past 30 years, they have expanded in both geographical reach and services. The Doctor Is In team contacted Imbue Creative when the need to educate their community and local businesses about their range of offerings became apparent, especially as they expanded into new markets.
Imbue Creative first set out to reach local businesses and present The Doctor Is In's experience in occupational medicine. We developed a multi-touchpoint campaign aimed at converting this market into sales over a longer period of time, through educational engagement and repeated exposure. The direct mail campaign targeted a very specific mail list purchased by Imbue, and incorporated a digital component to encourage online traffic. This online giveaway helped capture prospective client data and further engage recipients.
The first mailing was a package that consisted of a custom branded prescription bag filled with a branded stress pill and letter. Stapled to the outside of the bag was an oversized postcard describing all the services that a prospective company may be looking for in a wellness partner. All of these components were mailed in a white padded envelope. This first touchpoint was mailed to a targeted list over the course of three months to allow for personal, phone call follow up from The Doctor Is In team.
With the success of the first campaign, The Doctor Is In then shifted focus on its audience to gain exposure within the residential community. Imbue created another multi-touchpoint campaign that would go out to over 75,000 residents—focusing on their unique offering of both urgent and primary care services. The first touchpoint consisted of a bright oversized postcard and the second mailing was inspired by the reminder postcards commonly used by doctor's offices.
Imbue provided the concept, copywriting, and design for all of the collateral, as well as list acquisition and production management for each campaign.