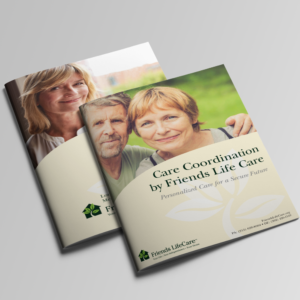 Friends Life Care, an organization that has provided long-term care solutions to older adults in the greater Philadelphia Area for over 30 years, felt the market was weary with their traditional marketing techniques and messaging, resulting in a plateau in lead-generation.
In 2015, the non-profit organization engaged Imbue Creative to increase brand awareness through the use of new marketing channels, refined messaging, and an approach more likely to engage today's consumer. Imbue embarked on the partnership by conducting persona development research and workshops with the Friends Life Care team, followed by a strategic content marketing plan.
After the groundwork was laid, it was time to hit the ground running. Imbue simultaneously tackled two initiatives: 1) boost the organization's digital presence by developing content offers targeted to the identified buyer personas; 2) refresh the core messaging and design of print materials (including print ads, direct mail packages, event signage, brochures, and informational booklets).
Over the course of about one year, we developed a beautiful new collection of cohesive and integrated marketing materials by working closely with the marketing team at Friends Life Care.
It was now time to address the website. To give Friends Life Care what they needed and deserved, Imbue worked from the ground up to provide a completely new site. Work included information architecture, copywriting, search engine optimization, design, development, content integration, training, and a list of custom features which came as a result of our careful strategic planning. Some of the highlights included a homepage video, custom benefit calculator, mega menu, blog and resource library.
Read the full story about this website's development here.
More recently, the Imbue Creative team has helped Friends Life Care develop a custom animated explainer video, as well as with product naming services to further assist the organization in connecting with current and future customers. In addition, we continue to provide strategic ideation, design and copywriting support for Friends Life Care, its sister companies (Caring Friends Home Care, Intervention Associates, Friends Life Care Consulting), and other cooperative partnerships (SpiriTrust Lutheran, MorningStar Living).
Our close relationship and collaboration with the team at Friends Life Care has resulted in a number of successes for the renewed brand.
As a result of our combined efforts, and with a rejuvenation of an inside-sales team, Friends Life Care saw a remarkable 60% increase in sales in 2017. We're proud to have played a role in the organization's success, and look forward to witnessing the reverberating effects of its strengthened and cohesive brand as the brand continues to generate awareness and increase engagement.