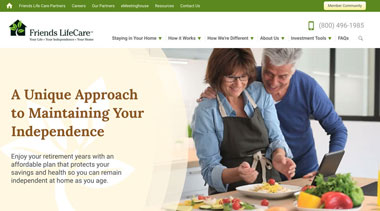 Imbue Creative Recent Work
Imbue first started working with Friends Life Care in 2015 when they sought out content marketing support. Friends Life Care provides a membership alternative or supplement to long-term care insurance and continuing care retirement communities to those located in the Greater Philadelphia Area. While direct mail marketing had worked for them in the past, it was time to build their brand, audience, and digital presence.
Over the months that followed our initial engagement, we collaborated to write, design, and strategize for Friends Life Care on a variety of print and digital projects—from white papers and blog consulting, to direct mail packages and informational brochures.
Friends Life Care's visual branding and messaging was becoming more highly refined and targeted to their market. The time had come to launch a new website that would speak to this educated audience in a smart way.
Information Architecture & Planning
Imbue embarked on the venture by building out the website's structure, working to ensure that the user experience would work well for key audiences and would provide appropriate paths for conversion. We planned the navigation structure, site features, and page types, before creating a wireframe.
Custom Features
We knew that Friends Life Care really deserved a top-notch website that would include custom and engaging functionality. Some of the website's unique features include:
Multiple navigation bars to keep core content organized and easy to find
Benefits calculator that provides personalized results based on user input
Event registration system for seminars and workshops
Resources library with content downloads to assist with lead data capture
Mega menu styling for the main navigation to enhance the user experience
Custom-built sections with special, content-driven structures
Call-to-action feature boxes that encourage engagement
Additionally, Imbue incorporated more features such as a blog, PayPal integration, social networking badges, contact form functionality, and Google Analytics installation.
Responsive Design & Mobile Experience
A focus of the design process was on responsiveness, as a seamless mobile translation and experience was of the upmost importance. Therefore, our team created a mobile menu design that created an enjoyable user experience.
Video
Another goal was to greet visitors with a welcoming, personal, and clear message as soon as they land on the home page. So, Imbue took care to develop a video loop to reflect their audiences in action, encouraging them to envision their futures at home.
Copywriting & SEO
After performing a search engine optimization (SEO) analysis, Imbue wrote both the copy and SEO for the website. Our writers carefully considered location, audience, and competition while writing, striking a balance between educational content and membership information.
The Result
The Friends Life Care website provides the visitor with a welcoming, informative, and persuasive experience. It leads the user through a customized and interactive journey in discovering if this service is the right choice for his or her lifestyle. It allows for engagement on a number of levels, a key aspect to lead-generation and a memorable experience. After a successful launch, Friends Life Care is now reaping the benefits by noting a marked increase in traffic and form submissions.