Strong brands powerfully communicate an organization's promise to its customers both visually and verbally. When visual identity and core messaging are in sync across multiple channels, brand recognition rises. Consistent use of design and messaging in print and online is critical because it helps elevate brand awareness to the holy grail of brand loyalty.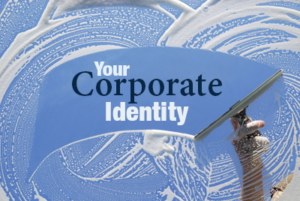 Recently I've witnessed how things can get a bit messy as logos get stretched, colors change, and taglines go missing across company materials. As for copy, messaging may miss the mark, brand positioning can be off, and false promises might be made. This can be avoided with a corporate branding guide packaged with core messaging, digital files of various logo formats, fonts, and graphic art.
If branding guidelines are not documented, how will the team understand the correct use of logos, type, imaging and messaging? More importantly, how will your customers see you for who you really want to be? Your brand is the window through which the world sees you.
Where to Start
I suggest a brand identity review among your management team; this includes operations as well as sales and marketing.
First, create a list of your core colors and typefaces. Only include essential items that clearly contribute to your brand—but do be comprehensive.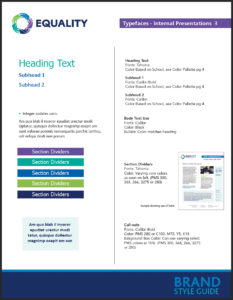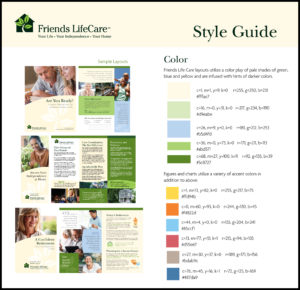 Second, examine the logo in all of its applications—and all of your current collateral, both digital and physical. Elicit opinions on overall design, consistent use of core colors, and communications in general.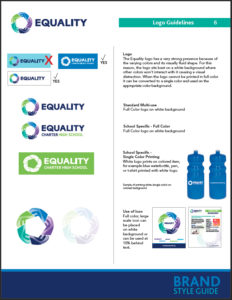 Third, gather sample layouts and stylistic examples that best convey your brand image. Does your visual identity and core messaging consistently align with the brand promise and organizational values you wish to convey?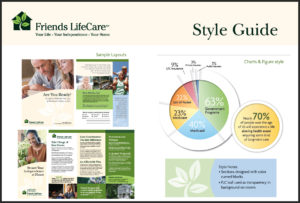 Adherence to a brand's voice and visuals is easily facilitated with a branding guide that demonstrates the organization's dedication to building brand equity. You may need an outside facilitator practiced in the art of corporate identity to help the process and develop the branding guideline document. Ultimately the guide will help imbue your brand with the branding and marketing mojo that can separate you from all the others in your space.
A Well-Crafted Branding Guide Will:
Present a consistent visual identity by serving as a roadmap for proper representation of your brand by all personnel, business partners, and sub-contractors.
Keep everyone on message by communicating the company mission, values, and position statements.
Inspire employees to be brand advocates as they take pride in knowing what the company brand stands for.
Achieve high brand recognition through the clear conveyance of the company mission, passions, and personality.
Foster brand preference among customers by continually strengthening the company's perception.
Editor's Note: This post was originally published in October 2015 and has been revamped and update for accuracy and comprehensiveness.