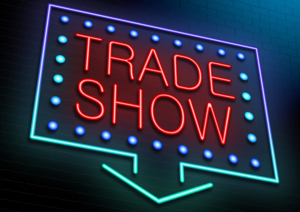 Prior to the pandemic, there were more than 30,000 trade shows and industry events across the globe annually. But business shutdowns, supply chain shortages and travel restrictions put an end to most, if not all, live events. While virtual events did a good job of filling in, many fell short with low attendance and engagement.
Now as more vaccines are being distributed and restrictions are lifted, people are longing for in-person interactions and experiences. And, when it comes to growing your business, there's nothing quite like trade shows. In fact, according to a recent study by Event Marketer, 91% of consumers stated they have more positive feelings about a brand after a live event. Trade shows provide a chance for you to share new products, listen to suggestions and have one-on-one interactions with your customers and peers. In addition to being important to the wellbeing of many businesses, they're also vital to the worldwide economy.
So how do we get back to the way things were? The truth is, we probably never will. Trade shows filled with large presentations, crowded booths and sponsored happy hours aren't making a comeback anytime soon. However, many planners are adopting a new hybrid model.
What is a Hybrid Trade Show?
Hybrid trade shows provide the best of both worlds by combining the intimate, face-to-face interactions of live shows with the convenience and extended reach of digital ones. The key to the success of hybrid trade shows is creating two unique user experiences for online and in-person attendees—all under a single brand umbrella. Regardless of the attendee's journey, the experience should begin months before the show and continue well after it's over
Benefits of This New Hybrid Format
More qualified leads – While the number of available in-person spots is limited due to social distancing restrictions, it would appear that the interest level of those who do attend—and visit your booth—is actually heightened. These visitors didn't just wander by on a whim, they had to register for a coveted spot.
Increased reach – Hybrid trade shows allow you to reach a whole new, global audience wherever they are. Regardless of social distancing regulations, the geographic location of the show or the size of the venue, there are no restrictions on the number of participants who can attend the virtual portion of the show.
Engaging content – Talks and presentations can be streamed live and recorded so you can use them on your site, social media pages and for educational and on-demand purposes after the event—giving you more bang for your buck.
Measurable results – By analyzing attendee interactions for both live and virtual formats, subsequent material downloads, job titles, geographical locations and more,  you can use this valuable data to structure future shows to get the best return on your investment.
Environment impact – Less travel, less emissions, less paper. By participating in smaller, more regional shows and going digital with your collateral, you do your part to help reduce the carbon footprint and save our environment.
What Will New In-Person Trade Shows Look Like?
While the return of trade shows is still very much a work in progress, some changes have already been implemented and more are under consideration as industries, organizations and business leaders are dipping their toes in the water to see how it feels. Here are some trends we may see
Outdoor trade shows – Event planners are foregoing indoor hotels and conference centers for large outdoor venues such as ballparks, wineries and parking lots.
Staggered attendance – Many shows are considering extending the number of days to allow for smaller groups that will rotate in and out of the show.
Reimagined floor plans – Much like grocery and retail stores, many venues are rethinking their floor plans to include one-way signs, wider aisles and single entry and exit doors, as well as sanitation stations.
Individualized itinerary – Rather than having attendees stroll the aisles and visit booths at their own pace, digital apps will allow visitors to plot out their own experience and follow an itinerary right from their smartphone.
Road tours – Bands go on tour, why can't trade shows? Many event planners are talking about taking their shows on the road—making stops in various cities to reach smaller, more local audiences. This opens up an opportunity for more targeted messaging for each region and allows for more intimate interactions.
Wearable technology – Many events are using Near Field Communication (NFC) and digital badges that allow for quick, contactless registration and paperless storage of pamphlets and brochures for exhibitors.
The Bottom Line
Although the content for in-person and online trade shows may be the same, the way you deliver it will vary. It's important to create a distinct experience for each type of attendee. If you have the resources, you may want to designate a different planner for each. At the very least, you will need to start the planning process early as this new hybrid model will require more work. But the good news is it will also deliver greater results.