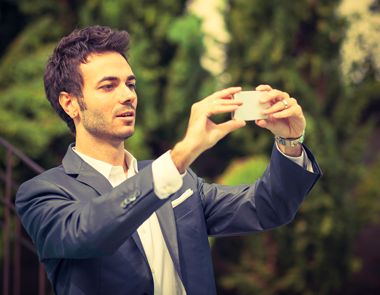 There is something special that happens when a photo captures a certain moment perfectly. It moves us and captivates us.
Millions of such perfect moments now belong to Instagram where some 400 million active users post, view, and comment on each other's instant photos. Consumer-facing companies from American Girl to American Express have joined in and built large audiences of followers with share-worthy photographs. Each moment in time that gets posted adds to the company story and builds brand loyalty.
B2B companies have a visual story to tell through their perfect moments in time. When captured "on film," they too become part of the business brand's story, humanizing the brand and allowing people to connect with it on a different level. Why not share these moments in a business Instagram account?
Federal Express (FedEx), for example, shares pro-quality, artistic photographs of precise moments in time where the brand stands out in the world — like this photo of a FedEx jet coming in for a landing over a blooming cherry blossom tree, or a hand seemingly picking up a miniature FedEx truck.
These shots are personal, whimsical, and similar to what someone might post on their personal account. This is extremely important. Brands that are on social media must speak each platform's language and use each channel's tools appropriately; otherwise, the content will come off as irrelevant and the brand will appear ignorant. This goes for B2C and B2B brands.
The FedEx Instagram account company description simply reads: "Delivering a more colorful, connected world." Every shot is credited to its photographer through tagging, which helps to build FedEx's audience by getting in front of the photographer's friends and followers.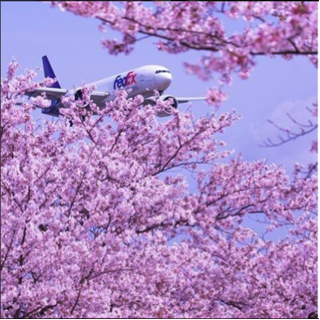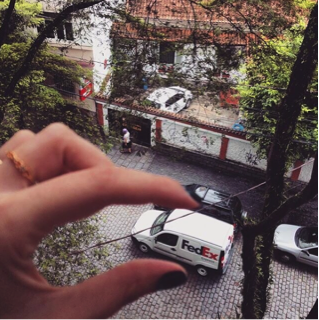 Hubspot takes followers inside the company and places its fun corporate culture on display for all to see: action photos of happy employees, group shots of lively team outings, employees with their dogs at work. For a company that relies so heavily on H2H (human to human) branding messages, photos of smiling groups of coworkers couldn't be more synonymous with their branding.
For deeper audience engagement the company invites followers to post their fun-with-Hubspot photos with the tag #HubSpotting. Developing a fun, easy-to-use hashtag relevant to the business is a great way to promote branding and track posts and interactions.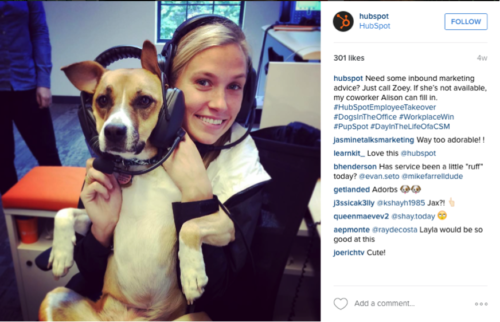 Find Your B2B Instagram Muse and Run with It
Like all good storytelling, you need an enticing plotline to tell it. The best B2B Instagrammers such as FedEx and Hubspot adhere to a well-crafted strategy to present their visual storyline. Assign a "Chief Instagrammer" to spearhead the project of developing an Instagram Creative Platform that covers:
Company Objective — State why the company is maintaining a business Instagram account and what the goals are.
Instagram Bio — Channeling your company's voice and personality, write what your company does in one or two sentences. This is what followers will see at the top of your page.
Position Statement — Describe the look and feel for your Instagram photographic brand identity to inspire your company contributors.
Category Titles — Name the various types of subject matter that you want to post and list the types of photos for each category.
Photographic Composition Guide — Arm your in-house photographers with a design guide for how to compose Instagram shots that includes tips and tricks along with any apps or filters that might come in handy to enhance the image.
Copy Style Guide — Develop a catchy tone for your captions with suggestions for using emoticons and use of hashtags.
Chief Instagrammer Responsibilities Include:
Expressing the company visually.
Serving as managing editor for the account.
Building audience — Invite clients, vendors, and employees, along with their friends and their families, to follow the company Instagram account.
Actively following and commenting on other related Instagram accounts.
Reporting Instagram stats – number of followers, comments, most popular posts, etc.
Instagram is an easy way for a B2B marketer to humanize its brand and showcase its company culture. Photos should reveal authentic, yet spontaneous moments from the timeline of the ongoing business story.
Take a look at the Instagram Business web page for more ideas on how businesses of all sizes are engaging with followers.