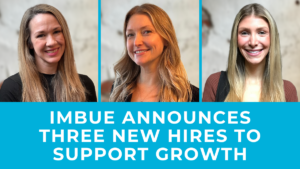 Imbue is thrilled to announce three new hires: Joni Kazantzis, Danielle Gannon and Julianne Ruane.
"We're so excited to welcome three wonderful additions to the Imbue team," says Imbue's President Erin Klebaur. "Joni, Danielle and Julianne each bring a unique skillset to Imbue. Their passion and enthusiasm for their roles will help our team to continue serving our clients with the highest level of care and creativity."
Joni Kazantzis joins Imbue as Director of Client Success. She is responsible for setting the overall vision and strategic marketing plans and execution for Imbue's clients and building enriching, collaborative client relationships. Kazantzis' background in client services, operations management and digital marketing spans a variety of industries including healthcare, retail and nonprofit. Prior to joining Imbue, Kazantzis led account management at agencies serving clients such as Duracell, GE, Comcast, Dove, Suave and more.
Danielle Gannon joins Imbue as a Sales Associate. She will help drive continued growth for the company by identifying new opportunities, implementing strategic initiatives and community activation. With more than 15 years in sales and marketing, Gannon's expertise includes social media, communications, event planning, public relations, advertising and more. She's the owner of Local Spotlight with Danielle, helping mom and pop shops in her community with marketing, PR and journalism efforts.
Julianne Ruane joins Imbue as Marketing Coordinator. She is responsible for supporting the planning and execution of marketing campaigns for our clients, including online advertising, email marketing, content marketing, sales presentations, print and digital collateral and more. Ruane began her career as Promotions and Affiliate Marketing Manager at Signify, where she developed a data-driven approach for affiliate marketing, drove promotion sales and built consumer awareness.