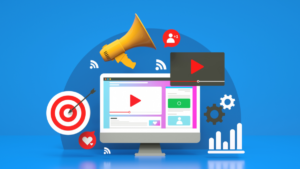 Your business may leverage digital marketing, but have you mapped out a digital marketing strategy? Developing a thoughtful and intentional marketing plan can help your business increase brand awareness, expand your lead pool, and ultimately drive ROI.
Keep these 5 tips in mind to enhance your business' digital marketing strategy!
Get in the Mind of Your Target Persona
Target market research is a key component of developing your digital marketing strategy – but don't stop at surface-level insights! To create campaigns that move your audience to act, you must understand your target persona on a deeper level.
Go beyond the standard target markets or job titles and start defining your prospects as real people with real needs. Step into the mind of your target personas by identifying common behavior patterns, shared pain points, goals, and demographic information.
Consider questions such as:
How do they like to learn about new information?
What is their typical day like?
What does success mean to them?
What do they value most?
What are their biggest challenges?
Understanding the answers to these questions will allow you to market your offers in a way that speaks directly to your target personas needs.
Map Out the Customer Journey
Once you've stepped into the mind of your target persona, it's time to step into their shoes and map out the journey you'd like them to take in relation to your business. We recommend walking through the AIDA model to create marketing strategies that speak to each level of the sales process:
AWARENESS: What's the very first step your target persona may take to find a solution like yours? Potential strategies include:
Search Engine Optimization
Social Media Marketing
Public Relations
Paid Advertising
INTEREST: Once they're aware of your offers, what step will they take next? Potential strategies include:
Content Marketing
Email Campaigns
Social Media Marketing
DESIRE: At this point, your target persona is considering your offer. How can they determine if it's right for them? Potential strategies include:
Free lead magnets such as an e-book, infographic, or whitepaper
Exclusive offers and discounts
ACTION: Congratulations! Your target persona has formed an intention to make a purchase. Leverage action-driven strategies and content such as:
Free trials/consultations
Case studies/testimonials
Calls to action on social media and website
Once you've mapped out your customer journey, be sure to create content that speaks to each stage, so your business is continually driving new leads down the funnel.
Define Goals for Each Initiative
After mapping out the customer journey, you may realize that different stages of the funnel will serve a different purpose. For example, the Awareness stage focuses on increasing brand awareness, while the Action stage focuses on closing sales.
When building out your digital marketing strategy, make sure to define goals for each initiative so you have a true measure of what's working—and what's not.
Leverage Automation
Leveraging automations in your digital marketing strategies will allow your business to improve efficiency around repetitive tasks, and provide a more personalized experience for your audience.
One prime example of marketing automation is creating an email sequence to nurture leads in the Desire stage, who may be interested in signing up to receive a free download or exclusive offer. However, your business can (and should!) automate marketing tasks at every stage of the funnel.
Here are just a few ways we recommend leveraging automations:
Segment contacts so you can deliver hyper-relevant messages
Schedule out social media posts, blog content and email campaigns
Create personalized workflows to communicate and nurture leads
Gather data points and insights so your business can continually optimize campaigns
Boost Results with Paid Campaigns
Once your digital marketing strategy is up and running and you've got a handle on what's working, supercharge your results with paid campaigns. Paid campaigns on social media or search engines can help significantly expand your lead pool and build brand awareness.
When developing your paid campaign, remember to keep your buyer personas in mind so you can develop creative and messaging that will speak to them on the right platforms at the right time!
Want more tips on enhancing your digital marketing strategy? Check out our free workshop Digital Marketing: A Crash Course!