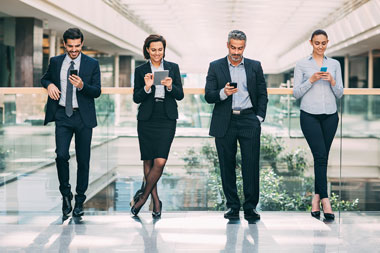 One of the strongest signs of a healthy workplace and thriving business is employee support and engagement. On-the-ball businesses know that positive employee activity on social media fares well for overall brand appeal, engagement, and follower growth. In a best-case scenario, a strong social media game will lead directly to sales.
For B2B brands, LinkedIn is the place to be if you're looking for activity to translate to ROI. But for a lot of organizations, stimulating employee interaction is no easy task.
Take these five steps towards encouraging employee engagement on LinkedIn
1. Social Media Policy
A social media policy is a must for any business—whether you're actively encouraging social media use or not. This document, instituted and enforced by your HR department, will outline how your organization and its employees should conduct themselves online.
It will not only summarize your messaging in order to promote consistency, but it will also protect your business from potentially damaging situations that could put your brand's reputation at risk. Don't let the fear of negative commentary inhibit your business from being active, but do have a solid protocol in place.
We recommend defining a standard response protocol and steps your business will take if and when negative comments arise. Will you try to take the conversation offline and move it to a phone conversation or email? Will you set up comment filters to ensure profanities or specific words are not associated with your page? Think about the types of situations that may arise, and how you can get ahead of them.
2. Generate Content
After you've laid the ground rules for a healthy environment in your policy, it's time to start thinking like a marketer.
What are you looking to achieve on social media?
What types of content and subject matter will support those goals?
Now, how can you create that content to support your team?
Get started by working with your marketing department or agency to draw up a detailed content calendar that will help keep you organized, on track, and held accountable. Include a publishing schedule, suggested topics, and mixed media (such as video, images, and presentations).
3. Have an Active Company Page
If you talk the talk, you must also walk the walk! Your company page should not only be completed in terms of information and imagery, it should also be consistently active. This demonstrates a precedent for the employees you're looking to inspire. Put that content calendar to work by publishing your own content regularly. This makes it easy for employees to get their feet wet because they can simply share content from your page.
Give your company engagement plan a boost by advertising with sponsored content or giving Premium access to your sales team and ambassadors. This extra lift could spark activity which can foster into a pattern of interest.
4. Provide Regular Education and Internal Engagement
Once you've got the content strategy, develop a plan to regularly educate and distribute content to employees. This can start from an employee's first day at the office by incorporating a brief information session about the social media policy into the onboarding process. Explain clearly what the company's goals are on social media and what the employee can expect to get out of it as well.
Stay in touch with employees by distributing your content through internal e-newsletters or other means of company news. Make the information easily shareable by including a "Share This" link and social icons.
Want to go one step further? Start an incentive program that rewards active employees for positive engagement.
5. Evaluate Performance and Growth
Like any marketing effort, it's critical to evaluate performance by exploring your analytics dashboard (LinkedIn, Google Analytics, HubSpot, etc.) on a regular basis. Before you even start implementing your plans, set SMART goals that you can easily refer to and change as needed.
The most valuable thing you can get from your analytics is insight into what is working and what you can do better. Your marketing team or agency can help with this analyzation and make recommendations for modifying your social media strategy moving forward.
Also, let your employees know how they're doing! Did you see improvement? Notice concerted efforts from specific departments or individuals? Let them know how it's impacting your company's digital presence and thank them.
Want to continue leveraging LinkedIn to connect with your employees, customers and prospects? Check out this blog post: 6 Ways to Leverage LinkedIn for Your Business