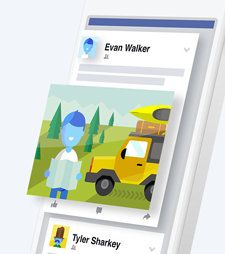 Facebook recently released an announcement that they've (yet again) updated their terms & policies. What does this mean? Now you can better understand how you control your personal information and Facebook experience. While Facebook really didn't make any policies less complicated, they did boil down their 9,000-word manifesto into a svelte 2,700 manual in what they're calling Privacy Basics.
"Privacy Basics offers interactive guides to answer the most commonly asked questions about how you can control your information on Facebook."
Basics are broken down into 3 sections: what others see about you, how others interact with you, and what you see. These sections include detailed explanations on hot topics like untagging, unfriending, blocking, and choosing audiences for specific posts.
Bonus: Privacy Basics are presented in a clean, simplistic and design-friendly format.
Facebook users also have the ability to test privacy features on new, interactive slides without having to make the actual changes to their account.
New to policies:
Location-based ads
"Buy" button, which allows instant purchases (still being tested)
Information on Facebook's expanded family of apps and services
How and what information is shared with advertisers
To cater to their global market, Facebook has provided their new policies in 36 languages. Updates take effect January 1, 2015. Learn more here.