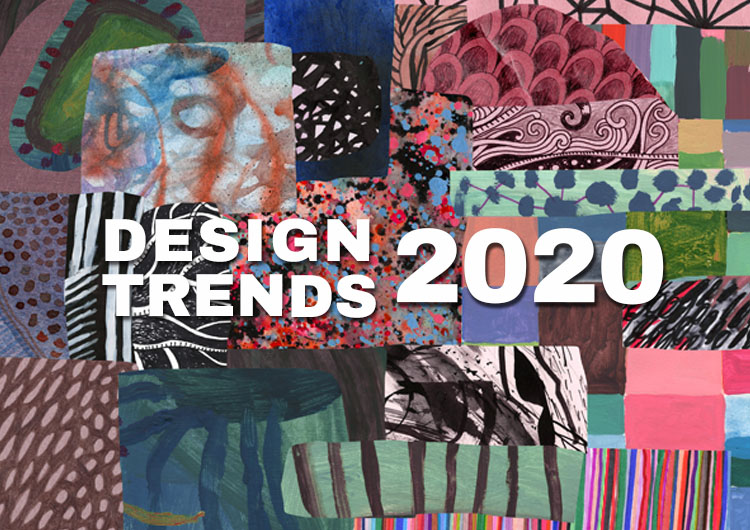 For many, a new decade means a fresh start. The same holds true for brand and marketing designs. Or does it? While many of the trends for 2020 are new, edgy, and modern, some remain classic and timeless. Check out seven of the most popular trends designers are using to kick the new year off in style.
1. Flexibility
The greatest trend in today's digital world is flexibility. Designers are being forced to adapt their designs to more sizes and shapes than ever before—sometimes adjusting backgrounds, colors, images, fonts and even logos to work within multiple environments. This expanded digital landscape is wreaking havoc on traditional brand guidelines and forcing designers to break many of the rules they created.
2. Classic Color
Color trends can be inspired by art, politics, nature, technology, and overall social climate. Every year, Pantone takes all of these factors—and more—into account when determining their color of the year. For 2020, that color is 19-4052 Classic Blue. According to color psychology, this timeless shade is said to represent intelligence, trustworthiness and maturity, so it's no shock that more than 50% of all brands have some shade of blue in their logos. And with this latest trend, you may want to use it play a larger role in your overall design.
3. Push for Greater Creativity
2020 is a designers' market—offering access to more resources and tools than ever before. While this opens up opportunities, it also creates added pressure to do something original. As it's become increasingly simple for the world to get inspired by (aka copy) someone else's designs, designers are continuing to push themselves and their work to stand out from the crowd. 2020 is on track to produce some of the most creative work in years.
4. Playing with Type
As type design software has become more user-friendly, there has been an explosion of new fonts that have become available. These range anywhere from playful 'handwriting' to funky retro fonts, to re-makes of classics like Helvetica Now. While accessibility is abundant and many of these fonts are even free, buyer beware if they aren't coming from a reputable type foundry.
Another relatively new type development has been typefaces that have animation programmed directly within them, so the letters can expand, contract, explode, and more in digital settings. This allows designers who may not be experienced in motion graphics to add some movement to their designs with no additional effort or programming on their part.
Lastly, as fonts continue to evolve, many are being associated with specific brands. We've all seen a single letter or two and immediately recognized which brand it was from. This has made designers more cautious of using 'another brand's font'—and created a demand for ownable, brandable fonts.
5. Abstract Illustrations
As more and more brands are turning to illustrations to help themselves stand out in a crowded marketplace, they're actually realizing the opposite effect. Simple illustrations are starting to blend in as they become more common place. To counter this effect, brands have started thinking outside the box to create and commission more abstract illustrations that are unique and relevant to their offering, their audience and their brand.
6. Keeping it Real
With millennials making up a huge share of the population, it's more important than ever to ensure that everything about your brand feels authentic, including your imagery. Designers are beginning to understand that posed models and stock imagery won't cut it in a world full of candid Instagram shots. In order to earn the trust (and business) of your audience, it's important to relate to them in a way that is honest and true. Big brands have begun to follow suit by showing real people in real-life situations, not models in staged environments. As we enter the new decade, the trend is all about authenticity and realism over idealism in design—as in life.
7. Fancy Production
For years, designers had to refrain from die-cutting, embossing, foil stamping and other production 'extras' as they were cost prohibitive for many clients requesting smaller quantities. In fact, many clients would often opt to print some of their own pieces, sacrificing production value for time and cost savings. Today, digital printing has made it more affordable to embellish the overall design of pieces, even for short- or medium-print runs. This has created a resurgence of glossy, glitzy, folded, special cut and overall fun designs.
The Bottom Line
So there you have it. The hottest design trends for 2020. It's an exciting and challenging time for designers with access to more options than ever before. You don't have to follow every trend. Pick and choose wisely, including elements that make your brand stand out and your audience take notice.