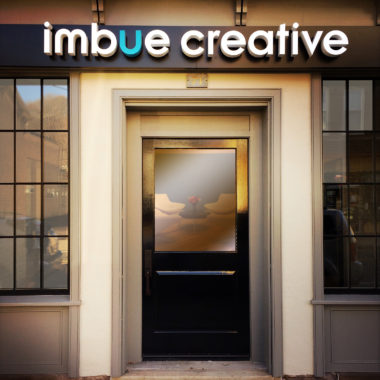 Agency Expands to Restored Historic Italian Revival Building on North Main Street
Ewing/Lambertville, NJ (February 7, 2017) – Imbue Creative has moved their headquarters into the first floor of the striking circa 1860 Italian Revival building at 71 North Main Street in Lambertville, after spending over six months lovingly restoring it. The branding and marketing agency was founded in 2004 in New Hope, PA, and then expanded to a 1,000-square foot office in Ewing in 2013. After outgrowing that space, Imbue took the opportunity to move back to its Delaware River roots, tripling its space to 3,100-square feet in the former Holcombe Hall in Lambertville. Imbue brings a team of creative executives, designers, illustrators, and account managers to their new home in Lambertville.
"It's exciting to be able to move back to the creative atmosphere of the New Hope-Lambertville area," says Michael Piperno, Executive VP, Imbue Creative. "We are glad to be a part of Lambertville's mecca for art and ideas."
One of the most ornate buildings in Lambertville, Imbue's new home stood empty for three years. It has been revitalized to its former glory with the help of Probert Construction Company, Gary R. O'Connor – Architect, Innovative Commercial Interiors, and Bruce Norman Long Interior Design.
The interior of the first floor, most recently the showroom of MacDonald Kitchen & Bath Designs, was completely renovated, fitted out with offices, workstations with adjustable desks for sitting or standing, a conference room, and collaborative spaces for Imbue Creative's team. The exterior has been enhanced with fresh paint, new windows, and the addition of extra windows on the first floor to bring more natural light into the office environment. Additional improvements include a new front door and updated exterior lighting that accentuates the building's ornate details.
According to the Lambertville Historical Society, Imbue Creative's new home served as a theater for traveling minstrels and operas, and as a public event space during the Victorian Era. Lambertville High School held their graduation ceremony on the upper floors in 1884, and various merchants sold groceries, oysters, and dry goods on the first floor.
Visit https://imbuecreative.com/lambertville-nj to see before and after photos of the renovation. You can also follow Imbue Creative on Instagram at https://www.instagram.com/imbuecreative.
About Imbue Creative
Imbue Creative is an award-winning branding, marketing, and creative services agency. The company's team of designers, writers, social media experts, and content specialists help organizations connect with new audiences and build loyalty in existing relationships through branding programs built on strong, targeted messaging and breakthrough design concepts. The company was founded in 2004 in Bucks County, Pennsylvania and now calls a renovated landmark building in historic Lambertville, New Jersey home.
For additional information, visit https://imbuecreative.com or connect with Imbue Creative on Twitter at https://twitter.com/imbuecreative, Facebook at https://www.facebook.com/imbuecreative, or LinkedIn at https://www.linkedin.com/company/imbue-creative
###
Media contact:
Beth Brody, Brody PR
beth@brodypr.com
908-295-0600