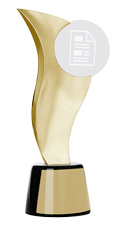 THE 16th ANNUAL COMMUNICATOR AWARDS ANNOUNCES 2010 WINNERS AND NEW HOPE AGENCY WINS AWARD OF EXCELLENCE
New Hope, PA (June 4, 2010) – The winners of The 2010 Communicator Awards have been announced by the International Academy of the Visual Arts, and New Hope agency Imbue Creative has received the program's top honor, the Award of Excellence, in the corporate identity/logo category. With thousands of entries received from across the US and around the world, the Communicator Awards is the largest and most competitive awards program honoring the creative excellence of communications professionals.
The winning entry is a corporate identity/logo design created for Athena Education Group, a Lambertville, NJ-based medical education company. According to Michael Piperno, Imbue Creative's president and chief creative director, "This award is a great honor for our agency. We are especially proud of the Athena Education Group logo because it strongly establishes a memorable visual identity for a small business that is doing important work in its field; and one that we feel is made up of truly terrific people."
The Communicator Awards are judged and overseen by the International Academy of the Visual Arts (IAVA), a 550+ member organization of leading professionals from various disciplines of the visual arts dedicated to embracing progress and the evolving nature of traditional and interactive media. Current IAVA membership represents a "Who's Who" of acclaimed media, advertising, and marketing firms including: Condè Nast, Coach, Disney, The Ellen Degeneres Show, Estee Lauder, HBO, Keller Crescent, Monster.com, MTV, Polo Ralph Lauren, Sotheby's Institute of Art, Tribal DDB, Victoria's Secret, Wired, Yahoo!, and many others. See www.iavisarts.org for more information.
"As we continue our mission to honor Creative Excellence for Communications Professionals, we were once again amazed at the high level of work we received for this year's Communicator Awards. With this year's entries we found an increased awareness and reflection of the digital world in which we live, and our entrants always seem to find new and creative ways to push the envelope of possibilities across all mediums" noted Linda Day, director of the IAVA. She added, "We are honored to witness the amazing work being done throughout the industry and want to commend and congratulate this year's Communicator Award Winners and Entrants for their hard work and dedication. On behalf of the entire Academy — Job well done."
For more information about the Communicator Awards, please visit www.communicatorawards.com, email the Communicator Awards at info@communicatorawards.com, or call (212) 675-3555.
About Imbue Creative:
Imbue Creative (www.imbuecreative.com) is a strategic communications company that brings over 20 years of design, branding, art direction, production, and creative/marketing strategy experience to every project. Located in New Hope, Pennsylvania, the firm develops targeted solutions for clients both locally and nationally.
About The Communicator Awards:
The Communicator Awards is the leading international awards program honoring creative excellence for communications professionals. Founded by communication professionals over a decade ago, The Communicator Awards is an annual competition honoring the best in advertising, corporate communications, public relations and identity work for print, video, interactive and audio. This year's Communicator Awards received thousands of entries from companies and agencies of all sizes, making it one of the largest awards of its kind in the world. Please visit www.communicatorawards.com for more information.
The Communicator Awards is sanctioned and judged by the International Academy of the Visual Arts, an invitation-only body consisting of top-tier professionals from a "Who's Who" of acclaimed media, advertising, and marketing firms. Please visit www.iavisarts.org for a full member list and more information.