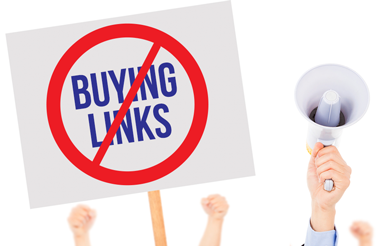 You've got great content, a fast website, and steady website traffic, but you're still not ranking for your primary keyword search terms — what gives? The problem could be that you don't have any link authority, which constitutes an astounding 40% slice of the SEO pie chart of Google ranking factors. The higher the number of quality links connected to your content, the more likely your website will be highly ranked.
Quality being the operative word. Not long ago, "black hat" link building techniques, such as hiding or buying links on unrelated sites, used to work. Of course, as with any SEO trickery, Google tends to discover deceptive link building tactics and sends offenders to the back of the search results pack.
This is why you only want backlinks from relevant sites with solid reputations that intentionally link or purposely allow links back to yours. There is no easy way to do this. You must develop and promote great content that people really want to see. It takes work, but putting the effort into creating such content as thought-provoking blogs, educational eBooks, and instructional videos can really pay off in building backlinks.
Once you've put time and resources into developing valuable content, your work is just beginning. Now you need to put as much effort into getting other websites to link back to your content and website. We recommend you do that in an up-front, honest or "white hat" way:
Get Connected
Be an active participant on social networks, online forums, and blogging sites. Like and share posts. Add insightful comments. When you find that it's hyper-relevant to a trending topic, drop a link to content that you believe readers will find useful. Keep in mind that most comment sections and forums require moderator approval and links are closely scrutinized. When your link is approved and posted, it shows up on Google's radar and becomes exponentially magnified when others share it.
Get Noticed
As individuals within the company gain authority, links back to the company website will come naturally. Try a few of these tips to gain some online credibility and links that will follow:
Maintain a blog with posts by company and industry thought leaders.
Link to other blogs.
Create and update company pages on social media platforms.
Author original articles for outside publishers.
Submit news releases of substance to targeted editors with a pitch message.
Conduct and publish industry research and surveys.
Sponsor and speak at industry conferences and association events.
Submit work for awards.
Get Listed
Make sure that your company is listed in high quality online directories. Most allow company logos, images, and descriptions so take full advantage with search-optimized submissions. This is a three-pronged initiative.
Business listings on general directory sites — Dex, Hotfrog, Manta, Merchant Circle, Yellow Pages, Manta and B2B search engines.
Member listings on association sites — BBB, Small Business Association, industry specific groups.
Vendor listings on resource pages of client and online publisher websites.
Link building is a never-ending project where you must roll up your sleeves and do the work link by link. In SEO, we wear many hats. When it comes to building links, make sure the hat you're wearing is white.