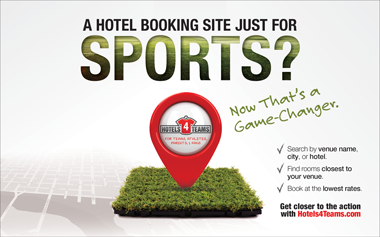 Hotels4Teams, an exclusive sports venue search engine and booking platform, was in the midst of launching their website and looking to expand their reach through print and online advertising. Already having experience working with Tournament Housing Services, Hotels4Teams' partner company, Imbue jumped on the challenge.
Our copywriters crafted a number of taglines and a few excerpts of copy that were refined to become the base of one ad. The design team then put together a clean, bold, and on-brand look that reflected the core messaging for their general audience.
While this ad was originally intended for print ads in industry journals and trade magazines, social media advertising campaigns, and online display advertising, Hotels4Teams decided to take their plan one step further by targeting their ads more specifically to their individual audiences.
Imbue was now tasked to design an ad for each specific sport which Hotels4Teams served—totaling 18 amateur sports and 10 professional sports. Our design team swapped out numerous headlines and taglines while redesigning the main image to match: a location pin placed on a piece of the sporting event's turf, racetrack, field, etc.
It took a collaborative team effort to turn out not only the quantity of these ads but also the quality of each piece. Collectively, the ads display brand and messaging cohesiveness, establishing a recognizable tone and image for Hotels4Teams to use moving forward.