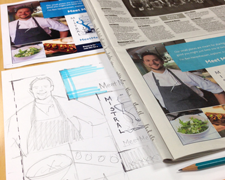 In the spring of 2014, Imbue set out to boost Mistral's (one of Princeton, NJ's premiere restaurants) brand awareness and restaurant traffic, specifically during lunch hours and weekday dinners. Imbue presented a multichannel campaign that included SEO, a custom landing page, direct mail, print ad placement, and social media efforts. The campaign invited new diners by using the phrase, "meet me at Mistral," coupled with photos of their chef, hostess, and elegant menu items (see ad here, page 11). It also carried through to Mistral's social profiles on Facebook and Twitter, as well as on their newly added Instagram account.
Impressively, Mistral's website traffic significantly increased and the campaign's landing page was the second top site traffic referrer accounting for 10% of traffic in its first month. Plus, their Yelp reviews increased 30% over the span of the campaign!
Look for the ads on nj.com, in US1, and in other local publications.