One of the biggest challenges in marketing a local non-profit is getting the perfect message in front of the exact target audience relevant to the cause. Many times there are multiple audiences associated with a cause, as is the case with Big Brothers Big Sisters (BBBS), making the task even more difficult. One of the most tried and true marketing channels for overcoming this challenge is direct mail.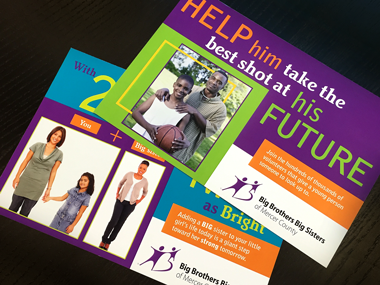 BBBS asked Imbue to procure a mailing list with very specific criteria and design a postcard that would speak to that particular audience of recipients. As the conversation unfolded, we discovered that there were really two audiences BBBS was looking to reach—potential Little Sisters (young girls in the community ages 6-15) and potential Big Brothers (men in the community looking to mentor young boys).
Imbue proposed targeting both groups by having Digital Dog Direct, our affiliated digital printing company, run two designs on one run with one presort and one postage statement. This allowed BBBS to hit two target demographics with two corresponding, individualized messages and designs, at a cheaper cost than if they were running two jobs.
Imbue designers then went to work by performing stock image research to match the separate demographics for each mailpiece. Then, they created multiple designs inspired by the uplifting messaging and brand image of Big Brothers Big Sisters, using vibrant colors, inviting fonts, and welcoming content.
Once the design concept was finalized, Imbue created two individual postcards specific to the target audiences. The result was a cohesive campaign that would reach a larger group of potential Big Brothers Big Sisters advocates and participants.
Follow Big Brothers Big Sisters of Mercer County on Facebook and Twitter.