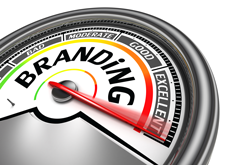 Chances are your business is not the sole provider of its service or product. However, chances are you bring something particularly unique to that service or product. To express this difference, you need strong branding that clearly displays the importance of what you offer to your customers.
Here are 3 signs of successful branding:
Visual Elements
Your logo, colors, imagery, and digital/print collateral are in alignment.
Make a statement with your visual branding, even if that means being understated. All elements should reflect your intentions as an industry provider so that every point of contact with your client or customer is a reinforcement of what you stand for. Your visuals should be in harmony across all communication channels (email, direct mail, website, social media, and so on) so that your audience starts to recognize you instantaneously.
Consistency
Your tone and message are consistent across all platforms and across time.
A consistent voice in all of your copywriting and customer communication is crucial to the preservation of your brand. This is how your audience gets to know you beyond the visual elements. Does this mean you can't make adjustments along the way? Of course not, change is a necessity for growth. That said, your core purpose should remain the same. As long as it is tied to your passion and your voice resonates with your target audience, your brand will stay consistent.
Open Ears
You know your target audience and listen to what they want.
Find a need that is not being met in your core audience and perfect the service or product that fulfills it. Identify these needs by opening the conversation. Solicit comments on your blog articles, ask questions on your social media platforms, and send surveys to your loyal customer base. Most importantly, after all of the listening, you need to deliver.
---
In need of a brand revamp? Let's talk.