Mercer County Creative Services Agency Wins Award Of Distinction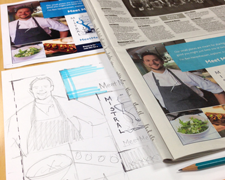 The winners of the 2015 Communicator Awards were announced by the Academy of Interactive and Visual Arts today, and Ewing, NJ creative services agency Imbue Creative has received an Award of Distinction in the integrated brand awareness campaign category. With over 6,000 entries received from across the US and around the world, the Communicator Awards is the largest and most competitive awards program honoring the creative excellence for communications professionals.
The winning entry is an integrated campaign for Mistral, one of Princeton, New Jersey's premiere restaurants. The goal of the campaign was to boost brand awareness and restaurant traffic, specifically during lunch hours and weekday dinners. Imbue developed a multichannel campaign that included theme development, copy development, SEO, a custom landing page, direct mail, print ad placement, and social media efforts. The campaign invited new diners by using the phrase, "meet me at Mistral," coupled with photos of the restaurant's chef, hostess, and elegant menu items. It also carried through to Mistral's social profiles on Facebook and Twitter, and Instagram.
"We are delighted to be recognized by The Communicator Awards," said Michael Piperno, Executive Creative Director of Imbue Creative. "Our entire team was involved in this project, from copywriters and marketers to art directors and designers. We're very proud of the results, and are particularly honored that our work was selected as an award-winning campaign by our peers."
The Communicator Awards are judged and overseen by the Academy of Interactive and Visual Arts (AIVA), a 600+ member organization of leading professionals from various disciplines of the visual arts dedicated to embracing progress and the evolving nature of traditional and interactive media. Current IAVA membership represents a "Who's Who" of acclaimed media, advertising, and marketing firms including: AirType Studio, Condè Nast, Disney, Keller Crescent, Lockheed Martin, Monster.com, MTV, rabble+rouser, Time Inc., Tribal DDB, Yahoo!, and many others. See aiva.org for more information.
"The work entered in the 21st Annual Communicator Awards serves as a true testament to the innovative ideas and capabilities of communications and marketing professionals around the world. Each year our entrants continue to amaze by reinventing the ways we communicate and market in an ever-changing industry," noted Linda Day, executive director of the Academy Interactive and Visual Arts. She added, "On behalf of the entire Academy, we congratulate this year's Communicator Award Entrants and Winners for their passion and dedication. We are humbled to be given the opportunity to recognize such amazing work."
For more information about the Communicator Awards, please visit www.communicatorawards.com, email the Communicator Awards at info@communicatorawards.com or call (212) 675-3555.