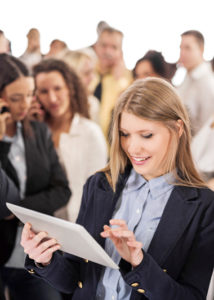 Branding, the lasting impression your business makes upon its audience, has largely been about the image you create and deliver. But as digital marketing success continues to rely on engagement, branding can no longer exist as a one-way street of forced recognition. Rather, your business should shift its branding goals from brand management to brand experience in the upcoming year.
How do you shift from brand management to brand experience in 2016?
First, we highly recommend that the front-end user experience (UX) always be a top priority in your marketing plans. This will ensure that the quality of your product or service is always reflected in every form of contact your customers have with your business. Plus, expectations for smooth and enjoyable UX have become so high, anything less than an easy experience will have adverse effects on your branding.
Second, don't forget to take some risks in innovation. That doesn't mean you need to do something completely groundbreaking such as building the first website to do "XYZ" or design an award-winning product (although that should be something to aim for!). We mean that you should be innovative in how you interact with your customers by striving to be unique. How can your brand's voice sound different? How can you deliver a different message? Consider your tone and messaging, but also consider the vessel and timing with which you deliver your messages.
To build on that point, the third thing we suggest is continuing to use storytelling and personalization in all branding communications. No matter if you are B2B or B2C, we are all in businesses that involve H2H (human to human) interaction. When striving for innovation in your communication, let your inspiration come from how to be more personal. Using customer names and information in email communications is one way to leverage personalization. But go beyond that—try personalizing your social media interaction by committing to more live engagement, interacting with other users by tagging them, and asking real questions that people, not just businesses, want to know.
Brand experience is all about considering how your business benefits the lives of your customers, not how customers benefit your business by fitting you into their lives. Whether that benefit be as grand as making a meaningful impact on their lifestyle, or simply providing a unique and enjoyable interaction during their day, your business's brand can provide a positive experience if you focus on the right goals.
In 2016, refocus your brand objectives and you'll reap the rewards from increased customer engagement, social media engagement, and new lead generation.