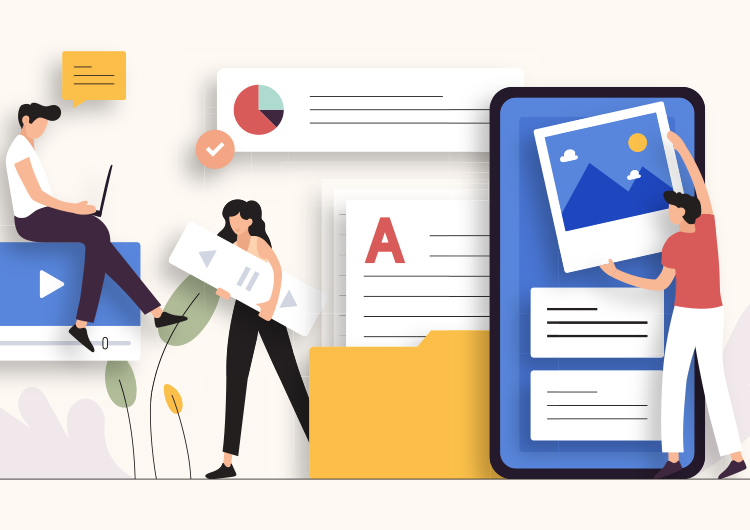 With more than 2.7 billion users spending an average of 38 minutes a day on the platform—Facebook is now the largest social network in the world. So it's no surprise that it has become a critical part of many marketing mixes. But what are the most popular Facebook trends for businesses in 2021? Let's take a look.
A Shift from Manual to Automatic
Gone are the days of marketing professionals having to reallocate budgets, re-evaluate target audiences and revisit messaging manually halfway through a campaign. Today, Facebook's advanced tools can be automatically set to do all of these things instinctively—minimizing the amount of time you spend managing your campaigns and maximizing their effectiveness.
Getting More Out of Every Dollar
Using Facebook's Campaign Budget Optimization (CBO), advertisers can allocate one overarching campaign budget and allow the platform's advanced technologies to continuously evaluate individual ad sets—automatically moving dollars to the ones that have the best opportunities for success.
Remarketing Dynamically
How do businesses with a large range or volume of products or offerings decide which ones to feature in their ads? With Facebook Dynamic Ads, they don't have to. Facebook's Dynamic Ad functionality uses machine learning to tap into your entire product catalog, then serves up customized and relevant ads to people who have shown a specific interest on your site, your app or anywhere online. These remarketing ads look like other single image, carousel, stories or collection ads on Facebook, Instagram, Messenger and Audience Network. So you can promote your entire product catalog without having to go through the time- and money-consuming process of creating ads for each.
Speaking to Customers the Way they Want
Not all customers will respond to every message. With Facebook's Multiple Test Optimization functionality, marketers can customize their messaging by providing multiple text options, including primary text, headlines, descriptions and links for each campaign. Facebook's algorithm, developed using machine learning, then displays different combinations of these text components based upon messaging that will be most relevant to each viewer. This ensures that each ad is optimized for them and helps reduce ad fatigue by providing multiple combinations that keep messaging fresh.
Taking a Mobile-First Approach
Every day, 500 million people watch videos on Facebook. And that number continues to rise. Two-thirds of them (or more than 330 million people) view these videos on their mobile devices, and 85% watch with the sound off. What does that mean for marketers today? It's simple. In order to have the most impact, you need to create these videos with Facebook, or at least mobile, in mind. This hasn't always been easy to do. But today, savvy marketers are taking advantage of one of Facebook's most popular business tools—the Video Creation Kit—that makes it easy to create mobile-first video ads using existing assets and customization options. And because these stories are displayed at the very top of the Facebook app, they are the perfect opportunity for businesses trying to grab the attention of their audience.
Another Day. Another Story.
We are living in a visual world. As content continues to shift from text to photos and videos, Facebook Stories is gaining popularity over the platform's traditional newsfeed. These short, user-generated photos and videos are only visible for 24 hours, so they feed right into the fear of missing out (FOMO) phenomenon and offer a CTA button to drive viewers to a specific page. And while the first Facebook Story made its debut in 2017 with a lackluster reception, today there are more than 150 million active Facebook Stories users. This number continues to grow as businesses search for new and more intimate ways of staying connected, building brand awareness and engaging with their audiences. As an added bonus, businesses can easily cross-share Stories on both Facebook and Instagram giving them even more exposure.
One-Stop Shopping
The events of 2020 have forced many businesses to rethink the way they operate. With a large number of them having to either close their storefronts completely, or at the very least, limit their number of customers, ecommerce has exploded. But creating a new e-commerce site can be a daunting task for most businesses and requires two of their most valuable assets—time and money. Facebook offered a solution with the soft launch of Facebook Shops in the summer of 2020. And it couldn't come at a more perfect time. Facebook Shops provides a fast and easy way for shops to set up an online store for free. Shops can even enable checkout right from the platform's app, as well as provide support and tracking capabilities from Messenger, WhatsApp and Instagram Direct. With new features continuing to be rolled out in 2021, more and more businesses are able to thrive by offering some much-needed retail therapy to their customers.
The Bottom Line
With its major advances in its machine learning and AI capabilities, new tools constantly being developed and the distinction of being one of the most cost-effective ad platform options available, Facebook may just be the most important part of your 2021 marketing strategy.