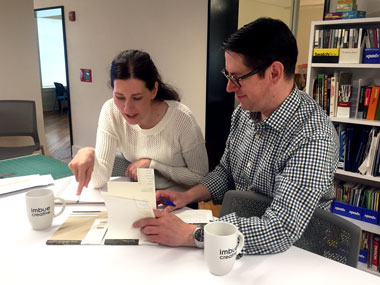 For some, summer means slowing down and putting your feet up to relax—not at Imbue Creative! We're blazing into summer with a variety of new work doing what we do best: design, content, web and more.
Here are some of our most recent projects we've been working on just this week:
Multi-touchpoint direct mail and digital campaign for a company providing an alternative to long-term care insurance based in Philadelphia, PA. We wrote and designed 3 postcards, self-mailer, email header, and letter package including letter, envelope, and buck slip.
Content marketing plan for a technology start-up, which includes a cohesive and integrated calendar of social media, blog topics, content offers, and email marketing tactics.
New website with parallax scrolling feature for a medical diagnostics technology company.
Email nurturing campaign strategy to help move leads towards a series of actions and ultimately submission of a membership application for a retirement community.
Relaunched an existing website after redesigning site structure, updating imagery, and streamlining the messaging to focus in on core audience.
What are you working on this season? Do you prefer to tackle large or small projects during the summer? Tell us your thoughts in the comments below.