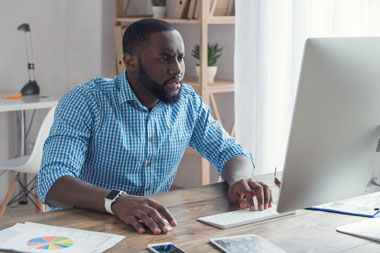 In October, Google is going to push more and more businesses to implement secure sockets layer (SSL) technology with the release of its latest version of the browser Chrome. If you have a website that has forms that collect data on pages without SSL (like your Contact Us form or your Content Offer Landing Page forms), users of Chrome Version 62 will get a warning that says "Not Secure" when they attempt to use your forms.
SSL is a security technology standard that provides an encrypted connection between your web browser and the server of the site you're visiting so that any data you transmit is not visible to the prying eyes of hackers.

All reputable online stores use SSL to protect your credit card data when you place orders. All of your financial institutions use it to make sure your sensitive account data is kept private. In fact, you're likely used to seeing a padlock icon in your web browser when using sites like Amazon or your online banking website. If you're not, we recommend you start making yourself aware of it — any time you are submitting information on a website, look for the padlock (which is often in green) and also check that the URL starts with https:// and not just http:// (without the s).
If you're curious to learn more about how SSL works, check out this page from ssl.com. If you simply want to know how you can prevent users of your website from getting the "Not Secure" warning from Google Chrome, read on.
Adding SSL to Your Website
Implementing SSL on your website is a three-step process.
Purchase an SSL certificate (which you need to renew from time to time, typically every year)
Install the certificate on your website
Test your site to ensure all links are working fine and all images are loading correctly
Sounds easy, right? Well, depending on your website it might actually be a lot more complicated. Check out this article from Search Engine Land that gives a great rundown of considerations. You'll need a good game plan in place, especially if your site is large. Also take note of the fact that some updates to things like your Google Analytics account and paid search destination URLs are needed after SSL is running.
Most hosting companies offer SSL certificates for sale (our favorite host, Flywheel Hosting, offers SSL certificates for free). Most hosts will also handle the installation for you. However, if you have a maintenance agreement with a web developer or agency, start there. They will want to be involved in any changes made to your website so they can ensure everything goes smoothly.
Google is working hard to make the web more secure, and we support those efforts. Expect other web browsers to follow suit in the quest to keep their users from being taken advantage of by hackers and thieves.
If you are an Imbue Creative client, contact your account manager to discuss implementation of SSL on your website.