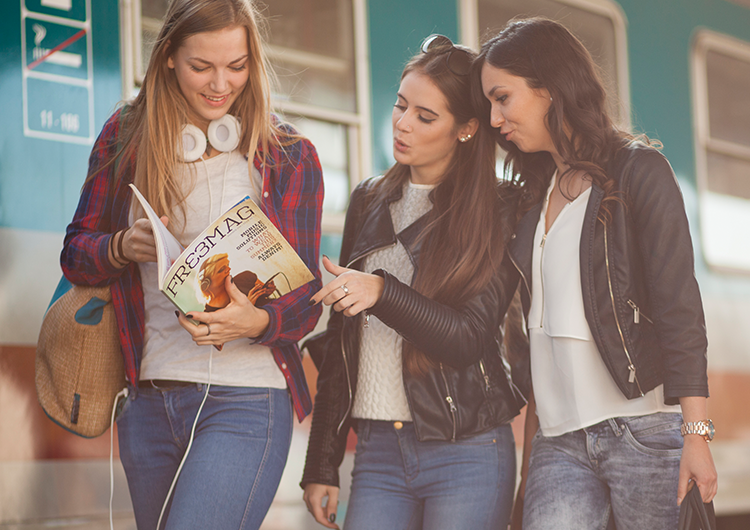 They say if you keep something long enough, it will eventually come back into style. We're beginning to see this isn't only true in the fashion world. Today, many of advertising's "mad men" are holding on to hopes that their traditional media will make a resurgence. It looks like they may be getting their wish.
So what exactly is the difference between traditional media and new media? It's pretty simple. Traditional media includes television, radio, newspaper and magazine, direct mail, out-of-home, in-store signage, brochures, banners—basically anything that doesn't require a phone, computer or internet to view. You may also hear it referred to as "old-school" media. New Media includes email, display, social, search, streaming video, in-game, apps—in other words, any type of digital marketing.
So how can old-school print, broadcast and outdoor compete in today's advanced digital world? Let us count the ways.
A Matter of Trust
Traditional media has typically been created by large companies and their agencies—requiring careful planning, time and money. Because of this, it has always had a level of credibility and trust that has stood the test of time. In fact, studies show that trust in traditional media has actually been on the rise, catapulting it to an all-time high in recent years among all audiences—even Millennials who grew up in the digital age.
On the flip side, anyone can quickly and inexpensively create and post an ad online promoting a product or service. That's not to say that none of the ads online are legitimate, just that some of them may not be. The realization of this by consumers, coupled with an increased sensitivity to data privacy issues has led to heightened skepticism around digital advertising over its traditional counterpart.
Pushing the Traditional Envelope
Let's face it, everyone likes what's shiny and new, but this hasn't driven traditional media to wave the white flag—quite the opposite actually. Competition from digital media has challenged traditional media agencies to step up their game—and their creativity. In fact, some of the most creative work in television, print and out-of-home has been created in recent years, with digital media supporting the efforts.
A Broader Reach
One of the benefits of digital media is its ability to hyper-target individuals based upon their viewing interests, history, behavior and demographics. While this is a great way to reach a precise audience, it may be a bit too precise in some cases, excluding those who don't fall neatly into one of the categories, but who may still be a viable target. Traditional media like TV provides businesses with an opportunity to cast a wider net and reach prospects who may have never learned about your product or service through digital alone.
Back to Traditions
With its low cost and popularity, social media advertising attracted so many businesses trying to capitalize on it that it ended up driving its price up and marketers back to traditional media. With less expensive and less cluttered options like print, businesses were about to stand out and gain a competitive advantage.
A Break From The Digital World
Sitting and reading the morning paper with a cup of coffee. Listening to your favorite station on the way to work. Flipping through a magazine in the waiting room. There's something to be said for taking a break from the clutter and going back to a simpler way of life. Traditional advertising provides that respite for many.
The Bottom Line
As the novelty of new media is starting to fade, advertisers are learning that the best solution for them may not be traditional or digital, but rather traditional and digital. Save three seconds at the end of your television commercial to drive people to your website. Add a call-to-action to your print ad inviting the reader to learn more. Add a form to your landing page for prospects to request a printed brochure. By bringing the two together, you can exponentially increase the impact of your advertising and marketing dollars—and your success.