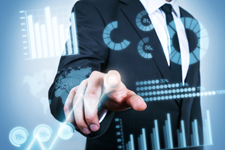 These 5 mobile apps are our top picks for a productive office experience. Check them out and let us know if you have found them to be as helpful as we have:
Notability — This app is amazing for note taking, brainstorming, sketching, and organizing. It also records audio, which comes in handy for interviews and other meetings. When we're finished jotting down our note, we sync it with iCloud and can immediately access it from any device.
WordPress— When you're a creative professional, you never know when that perfect moment of inspiration will strike! This app allows us to manage our blogs and sites by viewing stats, moderating comments, etc. It's simply great to post a blog article from any mobile device precisely when we're inspired to do so!
CamCard — This professional business card reader does just that — it reads the card and converts it into a contact. You can group, search, and export these cards, add images and notes, and merge them into existing contacts in Exchange or iCloud in a snap.
Keynote — We can't live without this presentation app. It seamlessly translates from laptop to iPad to iPhone, ensuring that you're always prepared for that important presentation. It continues to make presentations so easy to create, living up to its description, "designed for simplicity."
Citrix ShareFile — We love ShareFile's business-focused file sharing service. Its secure platform is most appealing, and having the ability to access our files while on the go is priceless. You can also download, sync, and email files right from your account.
---
Which apps do you find are most helpful for you at the office? Share with us in the comments below: