If you just want to entertain your eyes for two hours, any popcorn movie will do. But if your goal is to entertain your brain as well, you may need to look a bit further. Art films and documentaries are perfect for entertaining your intellect as well as your eyes, and here are seven of our teams' favorites.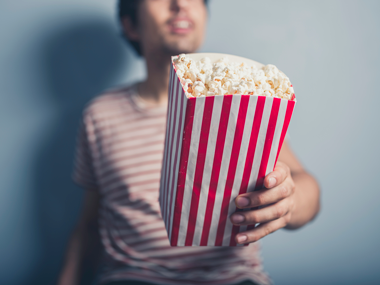 #1. Helvetica
You might not think the Helvetica font would provide enough subject matter for a documentary, but director Gary Hustwit proves the doubters wrong with this fascinating documentary. You will never look at the letters on your computer screen the same again.
Discoveries in the world of photography often come from unexpected sources, and that fact is at the heart of Finding Vivian Maier. When a nanny by the name of Vivian Maier died in 2009, she left behind an unexpected treasure trove of photographic negatives — much to the delight of the art world and the makers of this fascinating documentary.
#3. Frida
This unique biopic takes a look at the amazing life and career of painter Frida Kahlo, an artist who was truly ahead of her time. Of particular interest to director Julie Taymor is Frida's often tumultuous relationship with husband Diego Rivera, a fellow renowned artist. This biopic of an artist who was known as much for her Communist politics as her art is truly an eye-opening experience.
#4. Basquiat
In Basquiat, director Julian Schnabel examines the life and career of Jean-Michel Basquiat, an artist whose meteoric rise through the art world of New York City is the stuff of legend. This biopic is a must for any viewer with an interest in the challenges and tragedies of both art world politics and personal relationships.
The world of art is always a rich source for documentarians, and Ai Weiwei: Never Sorry is no exception. This fascinating documentary delves deep into the life of Chinese artist and political activist Ai Weiwei — a brave individual who uses a mix of social media and artwork to inspire protests against the repressive Chinese government.
#6. Exit Through the Gift Shop
Exit Through the Gift Shop is the brainchild of filmmaker Thierry Guetta and his love letter to the world of street art. The movie follows the escapades of Banksy, British graffiti street artist, and a number of other talented, edgy, and rule-breaking street artists. Watch what happens as the filmmaker has the camera turned back on him and his experience.
#7. Drew: The Man Behind the Poster
This documentary takes a look at Drew Struzan, the mind behind iconic movie posters for films by giants like George Lucas and Steven Spielberg. Struzan is also famous for album covers for Alice Cooper and Iron Butterfly among others. Even if you have never heard of Drew Struzan, chances are you know his work.
---
Even if you are a dedicated fan of car chase sequences or chick flicks, expanding your mind with the occasional art film or documentary will let you see film in a whole new way. Independent art films give viewers a new perspective, and documentaries allow movie lovers to gain new insights into subjects they thought they knew.