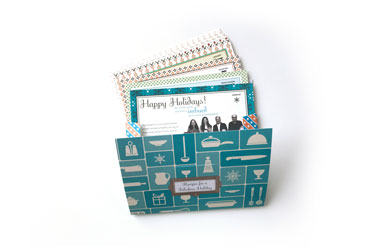 The team at Imbue Creative is always working hard for our clients, looking after their work as if it were our own. But when the opportunity comes along for us to collaborate on an internal project, we get to spread our creative wings even more than usual. Our annual holiday card is the ultimate example of in-house creative expression.
In 2017, we came together for a kickoff meeting and threw our most entertaining ideas on the table. How could we thank our clients, convey a nostalgic holiday message, and insert a little Imbue quirky flair in one card?
After several brainstorming sessions, we landed on the perfect vessel for our message: a box of family recipes.
We started by writing the copy for the recipe cards. Our recipes, however, included what can be described as "non-traditional" recipes in addition to a few traditional family dishes (Hot Spiced Sangria, Chewy Sugar Cookies, and Prime Rib). The non-traditional recipes were for Pleasant Dinner Conversation and Office Party Etiquette; see photos below to read our tongue-in-cheek copy. Also included were several blank cards for our recipients to keep and use for their own recipes.
All of the cards were bookended by a greeting and signature card, sending our holiday wishes.
After the copy development phase, we conducted an in-house photo shoot of the team to capture visuals that complemented each card's message. We had a blast creating costumes, props, and staged scenes. Photos of individual team members and group shots were included.
Our art team then took all of the pieces and assembled a set of retro-inspired designs. Patterns, colors, fonts, and photo filters were customized and coupled to create a beautiful, fun, and engaging set of cards that aimed to draw readers in and make viewers smile.
We nestled our card collection in an envelope designed to mimic Mother's recipe box with the hopes of fostering that nostalgic feeling of holiday whimsy from the moment our recipients touched the card.
Each recipe "box" was packaged up in a snow white padded envelope and addressed with a custom label before being delivered to the mailboxes of our clients, friends, and family.
Did you receive our holiday card? We'd love to know what your experience was in opening it. Comment below or tag us on social @imbuecreative.