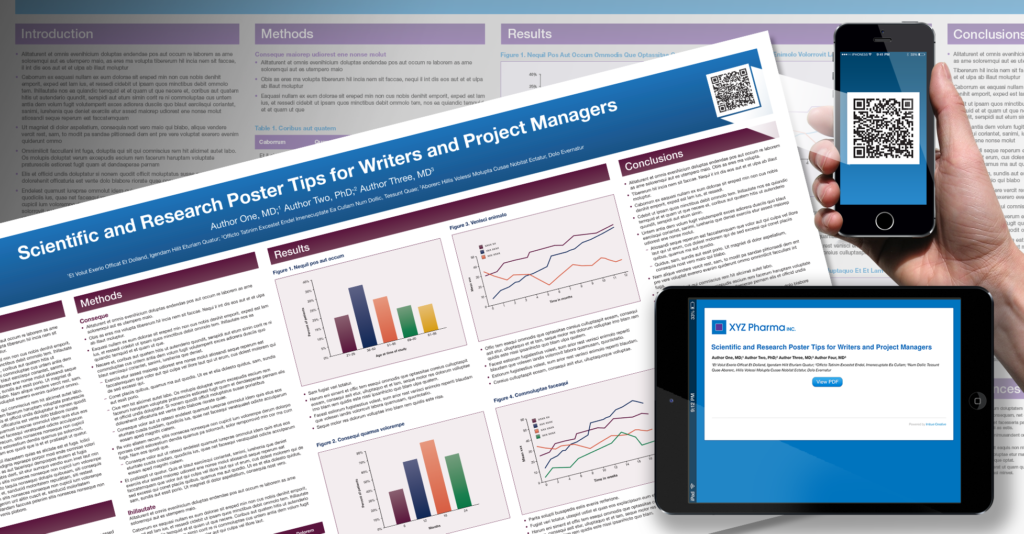 Medical communications, pharmaceutical, and biotechnology companies trust Imbue Creative year after year to provide professional scientific and research poster layout and design services. We're proud of that; and we are serious about making sure every poster we touch becomes the visual presentation that the poster authors' hard work deserves.
We get a lot of questions from poster creators, authors, and project managers about the process of getting a research poster designed and ready for print production and shipment. With the many poster presentations coming up this fall and next spring, we thought we'd share 5 tips that our scientific poster clients find most useful.
1. Think About Fit as You Write
A poster that is jam-packed with too much text will be difficult to read, especially from 6 to 7 feet away. 2 to 3 pages of single spaced content in Microsoft Word are roughly equal to 1 column in a typical 8-foot wide by 4-foot tall poster with 4 columns. Less content allows your designer to use more white space and keep font sizes large, improving readability of your important content.
2. Check for Inconsistencies
Before sending poster content to your design team for layout, do a final check for inconsistencies in the copy such as case (i.e., Title Case or Sentence case) in headings and subheads, and punctuation (e.g., periods or no periods at the ends of bullets). Our design team looks for inconsistencies and points them out to our clients when they notice them, but many design teams do not.
3. Provide Figures in Native Format
The most time consuming part of a professional poster design is re-creating the figures so they have a consistent look and will print clearly. If you have the original versions of the figures as PDF, Microsoft PowerPoint, or encapsulated postscript (EPS) files, provide them to your design team. Sometimes those original files can give them a significant jump-start on the figure re-creation process, saving you time and money.
4. Choose Your Material Wisely
We typically print posters on one of three materials: fabric, laminated paper, or smooth vinyl. If you're traveling and can't ship your poster ahead of time, fabric is a great choice since you can fold the poster and pack it in your suitcase. However, beware that colors print lighter and photos print duller on fabric than they do on paper or vinyl. If specific brand colors must be reproduced faithfully, or if you have photos or medical illustrations in your poster, laminated paper or smooth vinyl may be better choices. Remember that laminated paper and vinyl posters require a packing tube for traveling, which might have to be checked if you plan on taking it with you on a flight.
5. Be Prepared for Unforeseen Shipping Delays
FedEx and UPS are amazingly reliable; but over the years we have seen unfortunate occurrences where posters got lost, damaged, or delayed during shipping. Plan a few extra days in your printing timeline for shipping, and only consider next-day shipping as a last-resort option! We also strongly recommend carrying a print-ready PDF of your final poster on a USB drive, along with the contact information of a local large format printing company near the presentation venue, with you to your meeting. This way you can quickly print a new copy if your shipment is delayed or damaged.
Bonus Tip: Make a Plan for Accessing the Poster After the Presentation
Many of our clients create 11 x 17 inch handouts or use QR codes to allow access to an online version of the poster during and after the presentation. Since QR codes require downloading of an app in order to work, we recommend printing the actual web URL for the online version on your poster as well. You can then visit that URL any time you want to reference the poster in the future.
We hope the tips above will help you make sure the professional layout and production of your next research poster is smoother and more efficient than ever.
Michael Piperno is EVP and chief creative officer of Imbue Creative, an award-winning branding and creative services firm serving the healthcare and science industries. Learn more at https://imbuecreative.com/health+science.