Next to your company name, your logo is the most important visual representation of your brand and purpose. It provides the basis for the first impression that your clients, investors, customers, and future employees form of your business.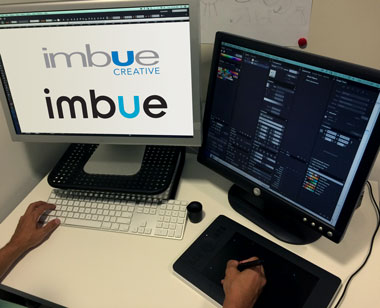 If your logo doesn't harmonize with your company name, doesn't evoke the appropriate emotions, or doesn't look up to par with your competition, you're potentially losing valuable business — or at a minimum, respect for your business. These may be signs that it's time for a complete logo redesign.
What if your logo is good, but not great? What if you asked your friend, an aspiring graphic designer, to design your logo 10 years ago and it's just no longer up to snuff? What if the only thing you know about EPS and vector files is that you don't have one of your logo?
It could be time for a simple update.
Here are five signs it might be time to update your logo.
#1. Designing Your Logo Was an Afterthought
When you first started your business, you probably had a lot of things to do and plenty of items on your plate. If designing your logo was more of an afterthought than a carefully planned project, chances are you could benefit from a logo refresh.
While the composition or specific elements of your logo may not need to change completely, consider what may make it more contemporary or relevant. Even something as simple as updating your font could completely revitalize your image.
#2. You've Tweaked Your Logo (More Than Once)
If you're doing things right, your business is growing. With that growth has probably come change, which may have affected your logo.
You may have experienced further brand development, calling for the need to add words, symbols, or colors to your name and logo. Alternatively, you may have hired an agency or expanded your marketing department, raising the caliber of your design capabilities.
Understandably, you've tweaked your logo as you grow to accommodate your brand. As a consequence, you may have old collateral, ads, and internal communication pieces circulating with different versions of your logo. An audit and update will clean up your presence and give you a fresh starting point for consistency moving forward.
#3. You Have Never Updated Your Logo
Been in business for 5, 10, or 20 years? Feel like you're not keeping up with the times? Even the oldest and most successful companies have updated their logos, and doing so can breathe new life into the business and improve the image of the brand. Aesthetic styles and fonts that were popular in years past can feel out-of-date and give the wrong impression to a prospective customer.
See a list of brands that have experienced logo evolutions here.
#4. Your Logo Looks Unprofessional
Overused fonts, clip art, and dated symbolism are signals of a company that is out of touch. These red flags inhibit customers from taking your business seriously. Even if you tell yourself, "it's not that bad," it probably is that bad. A logo is something to feel proud of and should be the most professional representation of your business. Don't make excuses for underwhelming or old-fashioned imagery.
#5. Your Logo Breaks Design Rules
If you're not a designer or do not have one, it's time to hire one. Above all else, a logo is one piece of work that requires a professional to handle. Even if to the naked eye your logo looks acceptable, there could be fundamental design flaws it is committing. They'll be able to tell you if your logo's fonts don't match, kerning is off, or resolution is low—for example. While this may not mean much on the surface to someone who doesn't understand principles of design, consider it a necessary price to pay of being in business.
A professional design or creative agency can advise how to update your logo and your branding to better align with your brand's features and benefits, and be more easily recognizable. Don't let an out-of-date or unprofessional logo negatively impact your business — consider a logo refresh based on market research and a sound branding strategy.