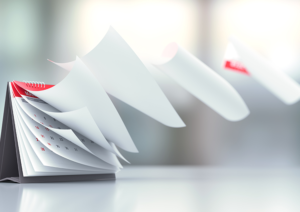 It may have seemed like yesterday when you plotted out your marketing strategies, content calendars, advertising spends and media buys. But then you blinked and six months have gone by like nothing. So, how's it all going? Are you meeting your marketing, sales and business objectives? If the answer is "I'm not sure," it may be a good idea to keep reading.
For many marketers plotting out an entire year is like predicting the stock market, you base it on history and predictive patterns, but many times you just don't know what's going to happen that could change everything. This is especially true after the last year we've had. As businesses start to return to some sense of normalcy, it's a great time to revisit your marketing plan and make any adjustments needed while there's still time to meet your 2021 goals. Use these tips to help get started.
Gather information
Start with your Google Analytics. Where is most of your web traffic coming from? Which pages are receiving the most hits? How long are they spending on them? Which types of content are they downloading? Where is most of your referral traffic coming from? What are your conversion rates? What's being shared? Where are you getting the most return on your investments? After you gather all of your Google Analytics data, check all other platforms you're using as well (email, social, digital ads, etc.) Take it all in.
Analyze and sort the information
Now that you're armed with all this valuable data, it's time to put on your analytical hat and dig in. Go back to your marketing plan and see what your goals and objectives were for the year and compare that to where you are now. Are you on track to meet them? If not, it's time to make adjustments. This may mean shifting your strategy, your messaging, your dollars or all.
See what's working and what's not
If analytics prove that you over indexed on certain digital or social platforms, pull back and put money into ones that are performing best, many times this could be as simple as repurposing existing creative and content. Speaking of content, is yours still relevant or could it use a refresh? What may have been topical back in January, may not be now. Try switching out CTAs that may not be engaging people to take action. Take a look at your content calendar with fresh eyes to see if you should swap out any topics.
Check in with your customers
The pandemic has caused major shifts in businesses—including customer needs and, in some cases, actual customers. With brand loyalty being diminished, many companies are re-evaluating their customer base. And because any good marketing plan is developed with the audience at its core, this fundamental shift may have an impact on who, what, when and how you market your business.
Talk to sales
Your marketing may be fun, engaging and creating a buzz but is it moving the needle for sales? The half-way mark is a great time for sales and marketing to get together and see how things are progressing (if you haven't been meeting more frequently already), go over your goals and make sure your sales and marketing goals are aligned and still on track. The better you understand how your sales team is using marketing for their acquisition and retention efforts, the better the results for everyone.
Road trip, anyone?
Back in January, getting on a plane and attending a large public gathering may have been the last thing on your mind—or in your marketing plan. Now that tradeshows are making a comeback, you may want to consider adding them to your updated plan. After all, your customers are just as anxious to get back to business as you are. So you don't want to miss out on opportunities to network with them and market to them face-to-face. Your competitors will be.
The Bottom Line
Half-birthdays. Christmas in July. There are few things that go an entire year without revisiting these days. Your marketing plan should be no different. If 2020 taught us anything, it's that things can change in an instant. You have to be nimble in all aspects of business, including your marketing. Take the time now to evaluate where you are and make any adjustments you need to get where you want to be.