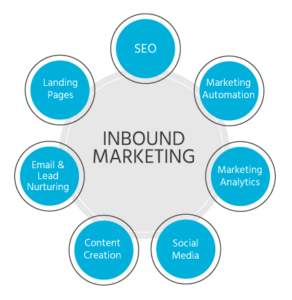 Customers control their communication channels now, choosing when and where they shop, what they watch, and how they catch up on news. They bounce around from site to site, app to app, and channel-to-channel, which can make connecting with them through advertising difficult.
First of all, they are scattered all over the World…Wide Web. Secondly, they are looking for useful information that speaks to them. And thirdly, they do not want marketers bombarding them with irrelevant ads.
You need customers to come to you.
Inbound marketing is a highly data-driven and hyper-personalized method of attracting and converting leads. When executed properly, a well-run, automated inbound marketing program will:
Get you found on the web.
Fill your sales funnel with a stream of live leads.
Respond to every action with personalized information.
Nurture qualified leads until they buy, and buy again.
Make your brand contagious.
Inbound marketing automation can empower you to:
Be Timely
Quickly respond to live leads with relevant content.
Get to Know Customers Better
Gather information every step of the way to build customer intel.
Be Personable
Craft content and imagery that speak to each persona.
Empower Your Audience with Knowledge
Help customers solve problems and find answers with useful information.
Inbound covers all of your marketing bases:
Many businesses have one or two pieces of an inbound marketing plan running but aren't sure how to bring it all together. Do you have an e-newsletter but no blog? Do you have a blog but no Twitter account? Do you have it all but no long-term plan or analytics? Inbound marketing is only effective when everything is working in unison. Here's a snapshot of all the bases inbound covers:
…Social Media
Facebook, LinkedIn, Twitter, Pinterest, Instagram, YouTube, Periscope and dozens more
…Digital Media
Mobile, email campaigns, digital ads, videos, online directories
…SEO
Keyword research, metadata, link building, website structure
…Content Management System
Landing page and website content updates
…Copywriting
Blogs, email, web content, news articles, white papers, sales aids
…Data Research
Google Analytics, demographics, firmographics, response analysis
Inbound isn't just about improving your website, or just about email automation; it's a holistic approach to driving sales organically.